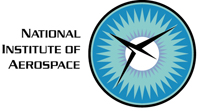 The National Institute of Aerospace (NIA) invites students at your university (who meet eligibility requirements) to apply to the prestigious NASA Langley Aerospace Research Student Scholars (LARSS) internship program. During the government shutdown, we understand there is a lot of confusion about what is operational and what is not. We are pleased to report that the LARSS website is open and we are currently taking applications. We have also extended the application deadline for the 2014 LARSS Spring Session to Thursday, October 31 (midnight EST).
The LARSS Program boasts the following:
NASA's most prestigious and successful student research program

Recently ranked among the top ten best internships in the nation by Vault Career Intelligence.com

PAID internship

Exciting hands-on research and engineering projects under NASA scientists engineers/mentors

Spring and Summer Internships Available in 2014

2014 Spring Session

15 weeks (20 - 40 hours per week)

January 20 - May 2, 2014

Application Deadline: October 31, 2013

2014 Summer Session

10 weeks (40 hours per week)

June 2 - August 8, 2014

Application Deadline: February 1, 2014
NOTE: The summer application will open on November 1, 2013
For more information, and to apply, please visit www.nianet.org/larss.

LARSS Eligibility Requirements:
U.S. Citizen

Full-time student status at an accredited U.S. college or university

Cumulative 3.0 GPA on a 4.0 scale

Classification as a rising undergraduate junior, senior or graduate student by the start of the program

Bridge Program opportunities are available for rising high-school seniors, college freshmen and sophomores who have previous NASA program experience and a 3.5 GPA
Designed to bridge the gap between academic concepts and real-world experience, LARSS creates opportunities for students to come to NASA Langley Research Center (LaRC) in Virginia to conduct hands-on research and engineering projects under the mentorship of NASA researchers, scientists, and business professionals.
The LARSS Program is open to undergraduate and graduate students in the fields of Science, Technology, Engineering, and Mathematics (STEM) as well as in business, communication, marketing, and other areas that support NASA's mission. All majors accepted, and minority students are encouraged to apply.
The 2014 spring session is fifteen (15) weeks (January 20 - May 2, 2014) and the hours can range from 20- 40 per week depending on the students' academic schedules. The 2014 summer session is ten (10) weeks long and runs from June 2 through August 8. University-level LARSS participants receive a stipend based upon academic standing, ranging from $12.50 - $14.00 per hour.
For all LARSS inquiries during the government shutdown, please contact Debbie Murray, LARSS Program Coordinator (757-864-5215; DebMurrayLARSS@gmail.com) or Sarah Pauls, LARSS Program Assistant (757-864-4394; SarahPaulsLARSS@gmail.com).
Once the shutdown is over, you may reach them via their NASA email accounts at deborah.b.murray@nasa.gov or sarah.e.pauls@nasa.gov .