59th Annual North Alabama Regional Science and Engineering Fair
The College of Engineering at the University of Alabama in Huntsville was pleased to host the 59th Annual North Alabama Regional Science and Engineering Fair (NARSEF). NARSEF is a scientific competition for students in grades five through twelve. The purpose of the fair is to offer an opportunity for students to showcase their independent research to the public and compete scholastically with their peers. NARSEF is dedicated to promoting the interest in science exploration in today's youth. Performing independent research, in the terms of a science fair project, stimulates interest in students in the areas of science, technology, engineering, and mathematics (STEM). The interest in these areas is important because they have been recognized as crucial knowledge attributes for the next generation.
This year, 2013 NARSEF was comprised of 346 winning projects from 30 public and private schools in the nine northern counties of Alabama; 373 students were in attendance. Of these projects, 106 were selected to compete in the state Alabama Science and Engineering Fair (ASEF), and three finalists were selected to represent NARSEF at the Intel® International Science and Engineering Fair, held May 12-17, 2012 in Phoenix, Arizona. ASEF will be held April 4-6, 2013 in the Spragins Hall on the UAH campus.
The College of Engineering is pleased to acknowledge financial support from the Alabama Space Grant Consortium (ASGC) and the National Science Foundation (NSF EPSCOR program). The College selected three students for an engineering scholarship for (future) students enrolling in the College of Engineering at UAH.
If there are any questions concerning NARSEF, you may contact Jacob Kerstiens, Fair Coordinator, at jacob.kerstiens@uah.edu .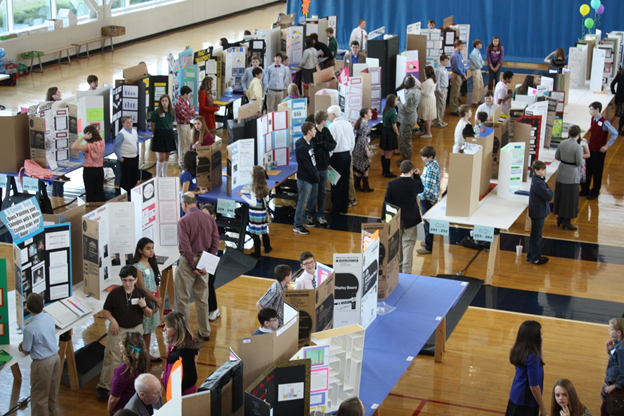 USSRC Honeywell Project
The College of Engineering hosted two days of engineering activities for groups of students selected by the US Space and Rocket Center to participate in its Honeywell Leadership Program. In all, about 256 junior and senior high school students from across the world were introduced to a variety of hands-on engineering topics including bridge building, rocket design, lean manufacturing, sensor design, alternative energy, and properties of materials. Students met with several of our faculty and research staff members who designed these activities. The group includes Professors Leonard, Gholston, Nelson, Corsetti, and Smith and research staff Dr. Lineberry, Mr. Hite, and Mr. Collins and Mr. Winningham. This event is part of the College of Engineering's outreach initiative to convey the excitement of engineering through hands-on learning of basic principles. Professor Jennifer English, Associate Dean for Undergraduate Affairs in the College of Engineering coordinated this event, and may be contacted for overall program details.