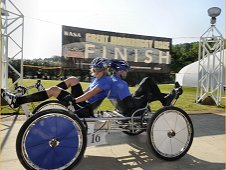 HUNTSVILLE, Ala. (April 16, 2012) — The University of Alabama in Huntsville grabbed the top spot in the 19thannual NASA Great Moonbuggy Race at the U.S. Space & Rocket Center over the weekend.
The collegiate and high school competition included 600 engineers, student drives and mechanics on 80 teams from 20 states, Canada, Germany, Russia, India, Italy and the United Arab Emirates.
Finishing behind UAHuntsville was the University of Puerto Rico at Humacao and Purdue University in third place.
In addition to winning the first place overall trophy for posting the fastest vehicle assembly and race times in their divisions, and the fewest on-course penalties, UAHuntsville also received the "Best Report Award" for its technical documentation of the equipment and procedures used to design, build and test the vehicle.
The Great Moonbuggy Race is organized by NASA's Marshall Space Flight Center and challenges students to design, build and race lightweight, human-powered buggies.
Traversing the grueling half-mile course, which simulates the cratered lunar surface, race teams face many of the same engineering challenges dealt with by Apollo-era lunar rover developers at the Marshall Center in the late 1960s.
The race is inspired by the original lunar rover, first piloted across the moon's surface in the early 1970s during the Apollo 15, 16 and 17 missions. Eight college teams participated in the first NASA Great Moonbuggy Race in 1994. The race was expanded in 1996 to include high school teams, and student participation has swelled each year since.
NASA's Great Moonbuggy Race has been hosted by the U.S. Space & Rocket Center since 1996. The race is sponsored by NASA's Human Exploration & Operations Mission Directorate in Washington. Major corporate sponsors are Lockheed Martin Corp., The Boeing Company, Northrop Grumman Corp. and Jacobs Engineering ESTS Group, all with operations in Huntsville.
For more information,
contact Ray Garner
256.824.6397
(256.UAH.NEWS)
ray.garner@uah.edu