UAH students take home top honors at AIAA regional conference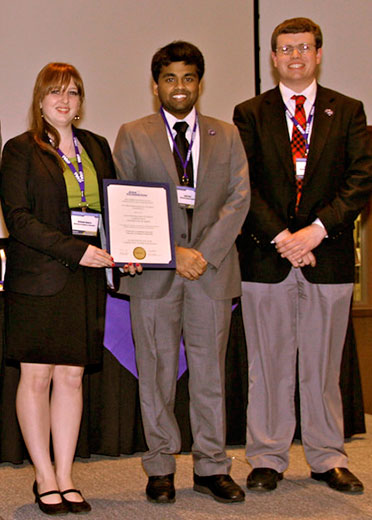 HUNTSVILLE, Ala. (April 30, 2014) – Earlier this month, roughly 170 delegates from 16 universities converged on Memphis, Tenn., to take part in AIAA's 2014 Southeastern Regional Student Conference. One of the most well-represented schools was The University of Alabama in Huntsville (UAH), whose team of 16 included junior aerospace engineering major Markus Murdy.
"Events like this are important to me as a student because they are great for networking with students at other universities who are also passionate about aerospace topics," says Murdy. "They also provide an opportunity to present and promote my work in a professional atmosphere among my peers."
Of the six divisions that made up the conference, UAH students presented in five – and took home awards in four:
Undergraduate Division – 3rd Place Disturbance Environment Characterization and Design Implications for a Balloon-Borne Active Attitude Control System (John Alcorn)
Team Division – 1st Place Design of a Cost Effective Thrust Stand for Introducing Thrust and Impulse(Markus Murdy, Ethan Hopping, Nathan Stepp)
Team Division – 2nd Place A Long Endurance, Highly Maneuverable, Collaborative, Unmanned Airborne System (Amy Cooper, John Alcorn, Mark Bales, Mike Goetzka, Stewart King)
Freshman/Sophomore Open-Topic Division – 1st Place New Training Methods of the UAH Space Hardware Club (Nathanial Long)
Community Outreach – 2nd Place (Tied) UAH AIAA Community Outreach(Brittani Searcy, Amit Patel, Matt Hitt)
It was an exceptionally strong showing, and it ensures the winners a place at AIAA's Science and Technology Forum and Exposition taking place in January in Orlando, Fla. But it's also one that comes as no surprise to those familiar with the university's pre-eminent research program for both graduate and undergraduate students alike.
"When our students get involved in research, they can push themselves to new heights," says Dave Cook, UAH's Student Research Programs Coordinator. "We're very proud of their accomplishments and the way they have represented UAH. These students will no doubt play an important role in the next generation of leaders in the aerospace field."