Prospective Students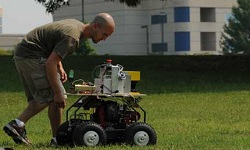 College of Engineering offers a distinct learning experience for every student. While here, you will have close interaction and networking with leading professors and professional s in their respective fields; enjoy a student/faculty ratio that averages 17 to 1; an average class size of 26 students; and the tradition of high academic standards.
You will attend class in interactive classrooms and labs in state-of-the-art facilities and afterwards enjoy strolling our spacious 400 acre campus in the heart of the 2nd largest research park in the U.S.
College of Engineering encourages both undergraduate and graduate students to take advantage of the research, internships, and co-op opportunities within Huntsville's high-tech community noted for NASA, DOD, and Biotech research.
We are striving to challenge our Engineering students to think creatively while stimulating intellectual pursuits. Guiding your academic success and assisting you in finding the right path are priorities for our dedicated faculty and staff.

Undergraduate Admissions
UAHuntsville Admissions provides information to high school and transfer students applying for admission to the university. We encourage you to discover more about attending the university and becoming a UAH Charger.
Learn more about attending UAH
Graduate Admissions
College of Engineering offers 9 MS degree programs 5 Ph.D. degree programs and two interdisciplinary programs through its five academic departments.
If you are interested in learning more about Engineering graduate degree programs, the School of Graduate Studies is responsible for coordinating the registration process.