Jeffrey L. Evans, Ph.D.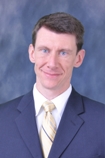 Assistant Professor
Mechanical & Aerospace Engineering
Office:
Phone:
Fax:
E-mail:


Technology Hall S231
(256) 824-2257
(256) 824-6758
jeff.evans@uah.edu
Personal Webpage
Education
2008
2004
1998

Ph.D.
M.S.
B.S.

Engineering, University of Arkansas
Mechanical Engineering, University of Arkansas
Metallurgical Engineering, University of Missouri in Rolla
Biography
Dr. Jeffrey L. Evans is currently an assistant professor at the University of Alabama in Huntsville in the Department of Mechanical and Aerospace Engineering. His previous experience includes positions with the GE Global Research Center, Kennametal, and The Engineering Institute. He earned his B.S. in Metallurgical Engineering from the University of Missouri-Rolla in 1998. He received his M.S. in Mechanical Engineering and his Ph.D. in Engineering, both from the University of Arkansas in 2004 and 2008, respectively. Dr. Evans is an active member of the TMS High Temperature Alloys Committee and the ASTM Committee on Fatigue and Fracture. He is also a member of ASM International and ASME. His experience and interest is in understanding the failure of materials through investigating the mechanisms of fatigue, fracture, and corrosion. During the summer of 2010 Dr. Evans held a guest scientist position at the Federal Institute for Materials Research and Testing (BAM) in Berlin, Germany. Also, he received the Keith J. Miller Young Investigator Award from the ASTM Committee on Fatigue and Fracture in 2010, and he received an NSF CAREER Award in 2012. Dr. Evans is also licensed as a professional engineer (P.E.) in the state of Arkansas.
Research Expertise
Mechanical Behavior of Materials
Fatigue Crack Growth
Fracture Mechanics
High Temperature Materials
Corrosion and Oxidation Behavior
Reliability and Component Life Prediction
Honors & Awards
NSF CAREER Award, 2012
Outstanding Junior Professor Award for the UAH College of Engineering, 2012
ASTM Committee on Fatigue and Fracture, Keith J. Miller Young Investigator Award, 2010
Best Paper Award at the 12th Intl Conference of Fracture, Ottawa, Canada, July 12-17, 2009
Recent Publications
Brown. M. and Evans, J.L., "Fatigue Life Variability Due to Variations in Interference Fit of Steel Bushings in 7075-T651 Aluminum Lugs" International Journal of Fatigue, Volume 44, November 2012, pp. 177–187.
Dean, W.P., Sanford, B.J., Wright, M.R., and Evans, J.L., "Influence of De-icers on the Corrosion and Fatigue Behavior of 4140 Steel," Journal of Materials Engineering and Performance, Volume 21, Number 11, November 2012, pp.2340-2344.

Pierce, S.O. and Evans, J.L., "Failure Analysis of a Metal Bellows Flexible Hose Subjected to Multiple Pressure Cycles," Engineering Failure Analysis Volume 22, June 2012, pp. 11–20.

Allison, B.D. and Evans, J.L., "Effect of Fiber Waviness on the Bending Strength of S-Glass/Epoxy Composites" Materials & Design, Volume 36, April 2012, pp. 316–322.

Boyles, C.T., Moynihan, A.R., Mulroy, J.D., Fitch, B., Watts, P.J., and Evans, J.L., "Undergraduate Student Experiences with Composite Materials," International Journal of Mechanical Engineering Education, Volume 39, Number 4, October 2011, pp. 297-305.

Evans, J.L., "Method for Comparing the Crack Tip Kinetics During Creep-Fatigue Loading of Nickel-Base Superalloys," Materials Science and Engineering A, Volume 528, Issue 15, June 2011, pp. 5306–5308.

Findley, K.O., Evans, J.L, and Saxena, A., "A Critical Assessment of Fatigue Crack Nucleation and Growth Models for Ni- and Ni,Fe-Base Superalloys" International Materials Reviews, Volume 25, Number 1, January 2011, pp. 49-71.

Evans, J.L. "Effect of Surface Roughness on the Oxidation Behavior of the Ni-Base Superalloy ME3," Journal of Materials Engineering and Performance, Volume 19, Number 7, October 2010, pp. 1001-1004.

Evans, J.L. "Thermal History and Tensile Strength Determination from Fracture Surface Analysis," Engineering Failure Analysis, Volume 17, Issue 4, June 2010, pp. 882-885.

Evans, J.L. and Saxena, A., "Modeling Creep-Fatigue" in ASM Handbook Vol 22: Modeling and Simulation: Processing of Metallic Materials, David Furrer and Lee Semiatin, editors, ASM International, 2009.

Evans, J.L. and Saxena, A., "Elevated Temperature Crack Growth Rate Model for Ni-base Superalloys," Proceedings of the 12th International Conference on Fracture, Ottawa, Canada, July 12-17, 2009. (Best Paper Award)