Jeffrey L. Evans, Ph.D.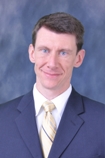 Assistant Professor
Mechanical & Aerospace Engineering
Dr. Jeffrey L. Evans passed away on May 11, 2014, after a brief illness. He was a young leader in our department, and he is greatly missed by his colleagues and students.
Please direct your questions to the MAE main office (

mae@uah.ed

u), or our Department Chair, Dr. Keith Hollingsworth (

keith.hollingsworth@uah.edu
). If you are interested in contacting Dr. Evans in his capacity as MAE Graduate Director, please be advised that we are in the process of appointing someone to fill that position.