DL News & Updates
Distance Learning News & Updates
Important updates about the Distance Learning Program will be posted here throughout each
term, so check back frequently for updates!
News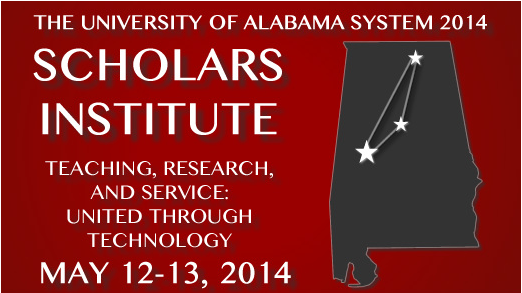 Save the Date - May 12-13, 2014! The UA System Office asks that you save May 12-13, 2014 for the 7th Annual Scholars Institute, to be held at the UA Bryant Conference Center in Tuscaloosa, Alabama. This year's theme is, "Integrating Technology to Support... Read more
Join Mary Fanelli Ayala, Dean of the College of Liberal Arts and Sciences, as she shares how ENMU successfully met their ambitious timeline – from pilot to full-scale, campus-wide deployment in less than 12 months. She'll outline the process of... Read more
Four hours southeast of Albuquerque, in the eastern plains of New Mexico, a small university is using videoconferencing technology to extend its reach past its isolated location. Eastern New Mexico University (ENMU) is in Portales, a rural town near the... Read more
This semester, thousands of college students around the country, including dozens at a Texas A&M University campus, won't be able to hide their studying habits from the prying eyes of their professors. With the new platform CourseSmart Analytics, professors are able... Read more
Teaching face-to-face and teaching online are both teaching, but they are qualitatively different. In comparison, driving a car and riding a motorcycle are both forms of transportation, but they have enough differences to warrant additional training and preparation when switching... Read more
Students in Dr. Farris's Wind Energy class show up three times a week for his lecture at Texas Tech University. They see him and his digital white board, he sees them and can tell whether they're engaged or yawning. Questions... Read more
Free Webinars sponsored by MERLOT http://taste.merlot.org/MERLOTFreeWebinars.html Read more
Almost 25 years have passed since Chickering and Gamson offered seven principles for good instructional practices in undergraduate education. While the state of undergraduate education has evolved to some degree over that time, I think the seven principles still have a place... Read more
While Eastern New Mexico University (ENMU) is the third largest school in the state, it covers more ground than any other university. The entire eastern part of the state, to be exact. In the dean's quest to make education accessible... Read more
Check out this technology-driven teaching method known as "flipped learning" has changed this high school pre-calculus class: http://news.yahoo.com/teachers-flip-flipped-learning-class-model-233848813.html Read more
Register for this free webinar today!
Best Practices for Designing and Assessing Online Discussion Questions
In this webinar you will learn strategies for:
Designing discussion questions that encourage students to critically evaluate course materials and topics.

Fostering an environment that supports active and meaningful discussions among class members.

Communicating clear expectations to students regarding online discussion.

Creating rubrics to assess discussion participation and provided detailed feedback to the students.
To register for the free webinar, visit: http://onlinelearningconsortium.org/institute/webinars/2014/7/bestpracticesfordesandassessonlinediscuss
You're invited to a complimentary MATLAB seminar on Tuesday, June 17th, 2014. The purpose of the session is to help you use the tools currently available on campus. The session is intended for faculty, researchers and students at the University of Alabama in Huntsville only.

The seminar will be held on Tuesday, June 17th, 2014 in the Technology Hall room S105. Session 1 will run from 10a.m.- 12p.m and then Session 2 will run from 1p.m. -3p.m. The presenter for the seminar will be Mehernaz Savai, Application Engineer.
Please click here to register
Our event features a technical session presented by a MathWorks engineer:
Session 1: Machine Learning with MATLAB
In this session, you will learn several machine learning techniques available in MATLAB and how to quickly explore your data, evaluate machine learning algorithms, compare the results, and apply the best solutions to your problem.
Session 2: Optimizing and Accelerating Your MATLAB Code
In this session you will learn how to boost the execution speed of computationally and data-intensive problems using MATLAB and the Parallel Computing Toolbox. We will introduce and demonstrate the high-level programming constructs that allow you to easily create parallel MATLAB applications without low-level programming and finally talk about tools to automatically translate your MATLAB code into C.
We hope you can join us!
To view a complete session description and register, visit: www.mathworks.com/seminars/UAH2014
If you have any questions concerning this seminar please contact Dr. Rhonda Kay Gaede, Associate Professor.
Voice: 256.824.657 FAX: 256.824.6803 Email: gaeder@uah.edu
Ready to get inspired? TED is a nonprofit devoted to spreading ideas, usually in the form of short, powerful talks (18 minutes or less). Click "TED Talks" to read or watch these 5 TED Talks that are each given by an education professional or technology expert with their own unique vision for how to improve learning.
While you're at it, read up on how during a recent eSchool News webinar, experts revealed how formative assessment can support the curriculum, click the happy face to read on!
Theres an app for that? There sure is! These five apps–all free–might help busy administrators manage their workload, identify and organize priorities, and make their days a little less hectic. And really, who doesn't love free?
10 Things Every Teacher Should Know How To Do With Google Docs
Google Docs is a powerful word processing tool that many schools have adopted. As it's similar to Microsoft Word and other word processing tools, most of its features are intuitive to use. However, in addition to completing many of the functions of a traditional word processor, Google Docs provides even more capabilities that can be invaluable to educators. Here are ten tricks that can make your life easier with Google Docs: http://www.edudemic.com/10-things-every-teacher-know-google-docs/?utm_medium=twitter&utm_source=twitterfeed
Get to know Canvas!
Join Canvas by Instructure for a free 50 minute webinar with presenter Jason Gilbert, Solutions Engineer, on Wednesday, May 28th, 2014 at 11 a.m.
In this free webinar you will see why some of the largest and most innovative colleges and universities have made a switch to Canvas. Canvas is the new LMS that has been formally recommended for adoption on our campus here at UAH, to replace Angel.During the webinar you will learn how Canvas makes grading up to 70% easier, how it engages students via intergration with the use of websites and devices, how cloud hosting is easier for everyone involved, and how the modern web interface makes it easy for faculty and students to use.Sound interesting? Register today so you dont miss out.
http://click.hubspotanalytics.com/email/v1/click?v=3&e=f18dQhb0S66X2dYTs8MVmgyFCrZJXW11tvq32Mywp9W1c7NlJ1H3jLMW6FfRn98tyCHrW6H14C65_gLtmN3mJ8s4q3l5jW9hkqkN5ZgSZDW3P8RKb5RFQcWW87fNck16CRPbW7Z1TMn6m6M01N6Bz5gZkTTDQW1vX2xR533WYkN4_4yFjny9NKW47j7vv1fDXG7Vpk4C21QT-_KW8Vz2Nq93vS04W71t3rM6d33BcW93-zSv1QVJF2W4Zy3nF9k8JfGVf4vv36fFF6NN2LpPC1bVf2kN4mfvfLZKFj2V_0Hsr5wL-qzW5Djz8n6y13GmW1kZyWr3slbM6W3mfQqp6lGP-BW8FMGrJ3Vf-_SVVKw5L65XtCQW3-gVcH3QGlKmW6LlPNG59WlvRV6kBVn1cFYN5W48TghS8JXZ74W1Sc4m87WMkKRW5zmcwp8hD03yW9fTLfH21fM6kW18wzdc9hGRQK103

Save the Date! May 12-13, 2014 - 2014 UA System Scholars Institute

The UA System Office asks that you save May 12-13, 2014 for the 7th Annual Scholars Institute, to be held at the UA Bryant Conference Center in Tuscaloosa, Alabama. This year's theme is, "Integrating Technology to Support Student Success, Research, and Service". For more information, click here!
If you have specific questions about eligibility for attendance, the Call for Papers, or otherwise, you may contact Dr. Sherri Restauri (sherri.restauri@uah.edu), campus coordinator for this event. You may also contact our committee chair at: 2014scholarsinstitute@ua.edu.
The Scholars Institute fosters a shared community of knowledge between members of all three UA System campuses. It brings us together to discover and discuss best practices and new ideas for the roles of technology in our teaching, learning, and research processes. As in years past, 2014 conference topics relate to experiences of all faculty and students, from integration of technology into our academic environments to the growing role of technology in the teaching, learning, and research triad.
Conversations That Matter: Approaching the Academic Calendar More Creatively
Special sessions are emerging as a key strategy for optimizing enrollment. To learn a little more about the opportunities these calendaring options present, we interviewed Ken Smith, Virginia Tech's vice provost for resource management and institutional effectiveness. To learn more about this and to watch the interview click here.
Conversations That Matter: Copyright, Fair Use, and MOOC's - What To Be Aware Of
Fair use and copyright ownership are complicated enough when we are considering materials for a class with seven or 70 students. But what if you are venturing into the world of the MOOC, where media and written materials may be shared with 7,000 or 70,000 students? How do fair use and copyright considerations change as you move into that setting, and what do your faculty need to be aware of? To learn more about the matter of copyright and fair use click here.
How Flipped Classroom Strategies Help Solve STEM Shortage
Want to know how the College of Engineering and Applied Sciences at University of Cincinnati gave more than 500 high school students a head start in college STEM studies over the course of just one academic year? Find out more here!
Emerging Technologies for Online Learning Conference April 9-11, 2014!
The Emerging Technologies for Online Learning International Symposium is designed to bring together individuals interested in the review and evaluation of emerging technologies' impact on online teaching and learning. The California State University's MERLOT and the Sloan Consortium invite you to submit a proposal for the 7th Annual Emerging Technologies for Online Learning International Symposium, to be held April 9-11, 2014 at the Sheraton Dallas Hotel in Dallas, Texas. Click here to learn more.
COE MOOC
The College of Engineering began work on the development of the University of Alabama in Huntsville's very first MOOC (Massively Open Online Course) during the Summer 2013. The progress of this project has been fast-paced with many lessons learned. Launch date is currently set in January 2014, so check back on new information to be posted.
MOOC Course Objectives: The objective of this online course will be to review key and essential concepts and ideas from four key enabling sciences that impact chemical engineering education: chemistry, mathematics, physics, and biology. We will do this by introducing problems that chemical engineers are asked to solve and explore the reasons why the enabling sciences are required to solve them. The problems introduced will come from topics such as water versus gasoline, chemicals to help cure disease, and materials and their properties.
Who is this program for? Students who are curious about chemical engineering or those that have expressed in earning a degree in chemical engineering will benefit from taking this course. While many students do take many of the basic science classes, this course will provide a context for basic science through exploration of specific problems and case studies.
Distance Learning Newsletters
Prior to the beginning of each academic term (Spring, Summer, and Fall) at UAH, the Distance Learning Productions Office publishes an electronic newsletter containing information on such items as upcoming classes, changes in technology, DL Faculty & Staff, Academic Calendars, and projected academic schedules for the future terms. These newsletters are distributed via email. If you are not on our mailing list and would like to be added, please let us know by requesting to be added sherri.restauri@uah.edu.
Summer 2014 DL Newsletter Now Available
Spring 2014 DL Newsletter

Fall 2013 DL Newsletter

Spring 2013

What do you think of our DL Newsletter? Have some suggestions for improvement, topics to suggest, or requests for additional information? Let us know here.
---
Distance Learning Newsletter Archives
2008: Spring 2008, Summer 2008, Fall 2008
2009: Spring 2009, Summer 2009, Fall 2009
2010: Spring 2010, Summer 2010, Fall 2010
2011: Spring 2011, Summer 2011, Fall 2011
2012: Spring 2012
Note: Some newsletters may be unavailable. You may need to download Adobe Reader to view these .pdf files. If so, you may download it here