Engineering News - Boykin APS
ELECTRICAL AND COMPUTER ENGINEERING PROFESSOR TIM BOYKIN ELECTED FELLOW OF AMERICAN PHYSICAL SOCIETY (NOVEMBER 2011)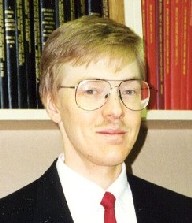 The Department of Electrical and Computer Engineering and the College of Engineering is very proud to announce that Professor Timothy Boykin has been elected Fellow of the American Physical Society (APS). The Council of the American Physical Society made this determination at its November 2011 meeting upon the recommendation of the Forum on Industrial and Applied Physics. Election to APS Fellowship is recognition by peers of Professor Boykin's outstanding contributions to physics, and is limited to no more than one half of one percent of the society's membership.
Professor Boykin's citation read's: "For contributions to the theory and full-bandstructure modeling of semiconductor nanostructures"
Congratulations to Professor Boykin for this well-deserved recognition!