Fathallah Alouani-Bibi
Hi,
I joined CSPAR (Center for Space Plasma and Aeronomic Research) at UAHuntsville on January 2011. My present research is in computational space plasma and astrophysics. I presently work on the transport and acceleration of high energy particles (PUI, ACR, SEP, CR) in our solar system / heliosphere in the presence of strong composite (Alfvenic/Slab + 2d) and intermittent turbulence. My research interest also include Vlasov/Fokker-Planck simulations of electrons in the solar atmosphere.
Other research activities: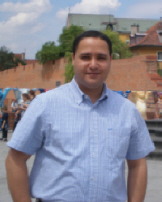 Heliospheric physics: Turbulence / Heliosphere formation and dynamics / Magnetic reconnection / Solar wind - LISM interaction/ Pick-up ions (PUI) and Energetic neutral atoms (ENA) transport.
Computational physics: Numerical analysis, algorithms, development of tools (codes) to investigate different physical phenomena. Some of these approaches are: Fokker-Planck / Vlasov; Hydrodynamics/Magneto-Hydrodynamic; Monte Carlo; PIC. Large scale parallel simulations.
Astrophysics: Jets; Galaxy cluster dynamics; Interaction of the intra-cluster medium with AGN jets (cooling flow clusters); AGN feedback; Supernova and SNR evolution.
Plasma physics/Fusion research: Non-local electron transport / Effects related to non-Maxwellian electron velocity distribution function/ Instabilities / Supra-thermal electron transport / Atomic physics.
-----------
Dr. Fathallah Alouani Bibi,
University of Alabama in Huntsville
Center for Space Plasma and Aeronomic Research (CSPAR)
320 Sparkman Drive, NSSTC
Huntsville, AL 35805, USA
Tel: (256)961-7479 / Email: fb0006@uah.edu