Joint Space Weather Summer Camp 2014, July 16 - August 6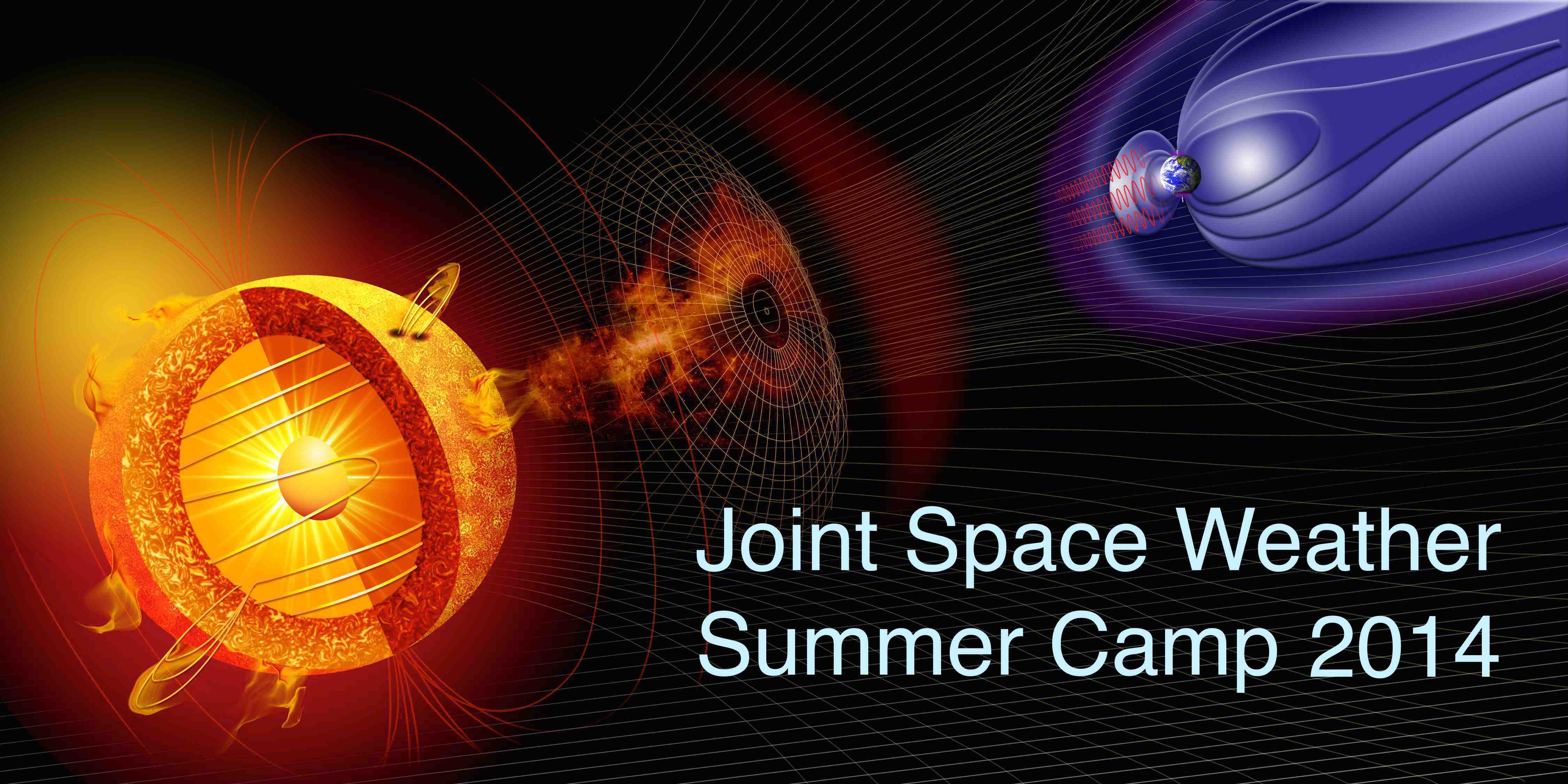 Credit: USGS
The arc of light heading towards the Earth is a coronal mass ejection, which impacts the Earth's magnetic field (shown in purple), causing magnetic storms. Read more at http://www.redorbit.com/news/space/...
---
Applications for the Joint Space Weather Summer Camp is now closed
---
Overview
The Joint Space Weather Summer Camp (selected topics course SPA489 and SPA689, 3 credit hours) is a joint venture under a cooperative agreement between the University of Alabama in Huntsville, the German Aerospace Center (DLR) and the University of Rostock. This course covers various aspects related to Space Weather, comprising cosmic ray particle transport theory, plasma physics, solar physics, heliospheric physics, computer simulations for modeling and understanding local Space Weather, and the impact on Earth's atmosphere, satellites, and space vehicles. The subsequent challenges and difficulties in building space instrumentation introduce the students also to the engineering program.
This course consists of three parts:
July 8 - July 14: A mandatory 1-week introduction to German language and culture prior to the Summer Camp.

July 16 - July 26: The first part of the Summer Camp takes place in Northern Germany. We will visit various locations and Space Weather monitoring sites as well as the Historical Technical Museum in Peenemünde.

July 26 - August 6: The second part of the Summer Camp takes place in Huntsville, AL, with a visit of the Oak Ridge National Labs in Tennessee and the US Space and Rocket Center.
The course is limited to 10 students. Students must apply online or in written form and be accepted prior to registering for this course (see below)!
If your application is successful, eligible expenses including transportation, lodging in Germany, and tuition for this course will be covered.
Important notice for applicants/students who work: Please be aware that for a successful participation in the Space Weather Summer Camp you must attend all classes in both the US and Germany, including the introduction to German language and culture prior to the Summer Camp. This will be very time-consuming! Please make sure that you notify your employer, since it is very likely that you will not be able to work during this course.
Eligibility / Requirements
Applicants should be graduate or undergraduate students with a GPA of 3.0 or better, who are majoring in science or engineering, or who have an interest in Space Science as applied to Space Weather. Undergraduate students require 3 years of physics and 2 years of math; graduate students should possess a corresponding background.
One part of this course will be abroad (Germany). Therefore, you will require a valid passport (see the Application Form). Depending on your citizenship you may also require a VISA to enter Germany. Please, visit the homepage of the German Federal Foreign Office for further details.
How to apply
A complete application consists of the following forms and documents:
Application Form: Download the Application Form from the link below and complete the form in full. Save the pdf file as

Lastname-application-JSWSC2014.pdf

and send it to jswsc@uah.edu.
Recommendation Form: Download the Recommendation Form from the link below and fill out the first part of the form and save the pdf file as

Lastname-recommendation-JSWSC2014.pdf

. Send this form to your evaluator, who completes the rest of the form and sends it to jswsc@uah.edu.
Transcript: Save your unofficial transcript as

Lastname-transcript-JSWSC2014.pdf

and send it to jswsc@uah.edu.
If you or your evaluator have problems in filling out any of the forms electronically, you can also print them off and fill them out by hand and bring them to CSPAR, NSSTC, Room 2001 (Mailbox). The Application and Recommendation Form must be signed; you can do that either electronically or manually. Note that incomplete applications will not be processed. If you have any questions, call 256-961-7965 or send an Email to Alexander Dosch (ad0016@uah.edu).
Downloads
It is recommended for Windows/Mac users to view the forms with the latest version of Adobe Reader (v11).