Space Weather Summer School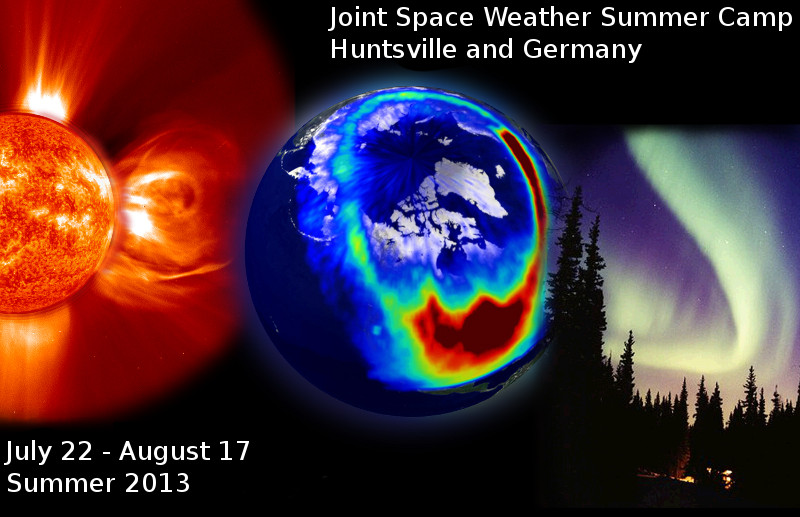 Space Weather Summer Camp
UAHuntsville is co-hosting a Joint Space Weather Summer School with the German Aerospace Center (DLR), and the University of Rostock. It consists of two consecutive 2-week sessions during the summer break. The first will be held in Huntsville, AL, and the second will be held in Germany. The summer school combines intensive site visits to various German space weather monitoring facilities, first-hand experience with operation and application of space weather related services, lectures, and hands-on project work in a team environment. German language instruction will be provided.

If Honors-enrolled undergraduate students wish, the Germany stay of the Space Weather Summer School will count twoards Foreign Language credit as a general option for any Honors student who particpates. The appropriate Honors Credit Completion Form would have to be filled out by the student.

Apply
To apply, fill out the Applicant Form below, email your transcripts to jswsc@uah.edu, then ask two of your professors to fill out the Reference Form for you (they will need your name and A-Number) by March 1, 2013. Please note that if you have less than two references or do not email your transcripts by the deadline, your application will be discarded.

By submitting the Applicant Form, you are agreeing to the following conditions:
I certify that the information in this application is true and complete to the best of my knowledge. I understand that approval of this application is contingent on: 1) a favorable review of all of my grades until the time of departure for the abroad course or program; 2) instructor approval (if UAHuntsville faculty‐led course or program); 3) a favorable review from the UAHuntsville Student Judicial Affairs Office. I also understand that particular courses and programs may have supplementary application materials and that I must complete them all within established deadlines. If accepted, I agree to participate in all required orientations and complete within established deadlines all documents required for participation in the study abroad course or program.
By requesting a reference from an instructor, you are communicating the following to him or her:
If you are a faculty member of The University of Alabama in Huntsville, I authorize you to consult my education records at the University to evaluate me. I understand that under the Family Education Rights and Privacy Act (FERPA), I will have the right to see this Recommendation Form and that I may waive that right, and I have chosen to waive that right.
Applicant Form
Applications Are No Longer Being Accepted

Reference Form

Applications Are No Longer Being Accepted
Gallery