About

RECYCLE
REDUCE REUSE
UAH Recycling Program
Residence Hall Energy/Recycling Competition
Announcing the first UAHuntsville Residence Hall Take Charge Go GREEN! Challenge. The contest will run from October 1 -29, 2010. Click here for more information.
---
Green Office Certification Program
Facilities and Operations recognizes the efforts of staff and faculty to minimize waste by offering a Green Certification Program. This program is Strictly VOLUNTARY!!!! Participating offices receive a certificate and are recognized on the Facilities and Operations website for their efforts.
» »Click Here for more information.« «
Take Charge, Go GREEN!
---
UAHuntsville Receives Donation to Support Recycling Efforts in Residence Halls.
May 13, 2010 – UAHuntsville and Alcoa announced today that recycling efforts on campus will get a boost this fall with the addition of more than 500 new recycling bins. UAHuntsville was selected by Alcoa as recipient of a recycling container donation. The 22-gallon green plastic bins will support residence hall recycling efforts and are to be placed in every suite for the Fall 2010 semester.
These bins will be the catalyst for bringing residence halls into the campus recycling program. The cost of collection containers has previously been a roadblock to expanding the University's recycling program into residence halls. Alcoa's generous grant will fully meet the need of UAHuntsville residence halls and will help us to sustain and grow our recycling program into the future.
"We're excited to partner with Alcoa to encourage students at UAHuntsville to recycle aluminum cans and other recyclable material," said Robert Redmon, Director of Grounds Management for UAHuntsville.
According to Alcoa's Recycling Director Greg Wittbecker, when you toss an aluminum can into a recycling bin, it can be recycled and back on store shelves in less than 60 days. And every time aluminum is recycled, it uses 95% less energy than when it was first made.
"Alcoa and the Aluminum Association have a goal of increasing the recycling rate of aluminum cans to 75% by the year 2015," said Wittbecker. "If every American recycled just one more can per week, we could reach that goal. Aluminum is infinitely recyclable."
---
Recycling at UAHuntsville
Recycling is alive and well at UAHuntsville! Look for the color coded bins around the campus and do your part to help the environment.
The recycling program at UAHuntsville is a cooperative effort between Students and the University administration. It was established to divert recyclable materials from the University waste stream and to promote the benefits of recycling.
The overall purpose and goal of the program is to implement a comprehensive program to inform, educate, and encourage the campus community to recycle. As a campus community, we set an example to others by active participation to decrease adverse impacts on our environment and conserve precious natural resources.
The programs and services offered by the UAHuntsville Recycling Program benefit both students and the University by providing:
Greater awareness of recycling through education
Participation in Recycling activities
Outreach to the Community
Practical work experience
Campus collection services
The University currently practices several types of Recycling, including:
Aluminum Recycling
Aluminum Cans
No foils, trays, or aerosol cans
Place cans in the recycling receptacles marked "Cans Only".
Laser Printer Toner Cartridge Recycling
All laser toner cartridges

Program conducted in coordination with Mail Services and Central Receiving.
Place the return shipping label (usually found inside the toner cartridge instruction papers) on the outside of the box.
Place single cartridges in you department's outgoing mail location, OR, for multiple cartridge pick up, please contact Central Receiving at 824-6315.
Paper Recycling
Place office paper into recycling receptacles marked "Paper Only".
Desk-side Paper Recycling bins will be made available.
The following list are items that should go into the desk-side recycling bins and ultimately the hallway bins: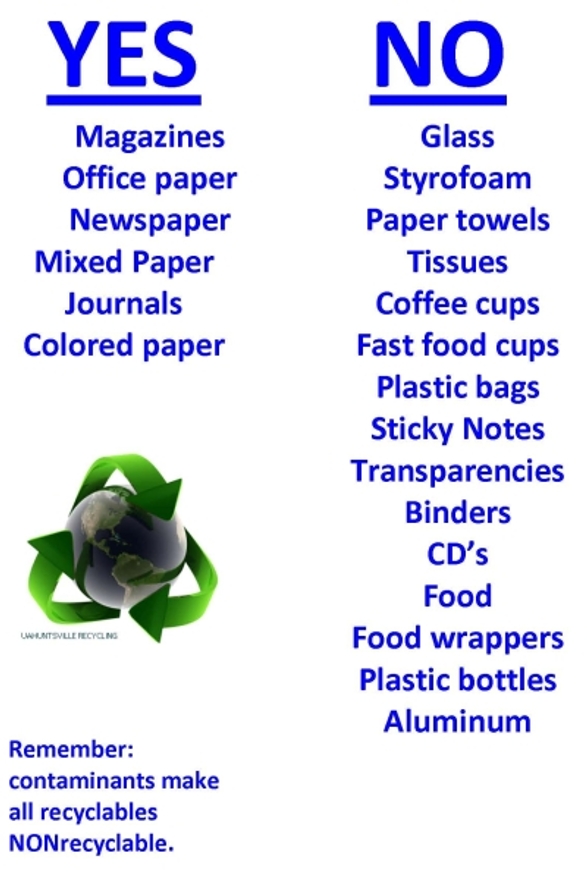 Telephone Books and Campus Directories
Program conducted in cooperation with Central Receiving and Shipping (CRS).
Collect outdated phone books and complete the Telephone Directory Pickup & Request Form. You may then Email or fax (824-7448) the form to Central Receiving & Shipping for pick up.