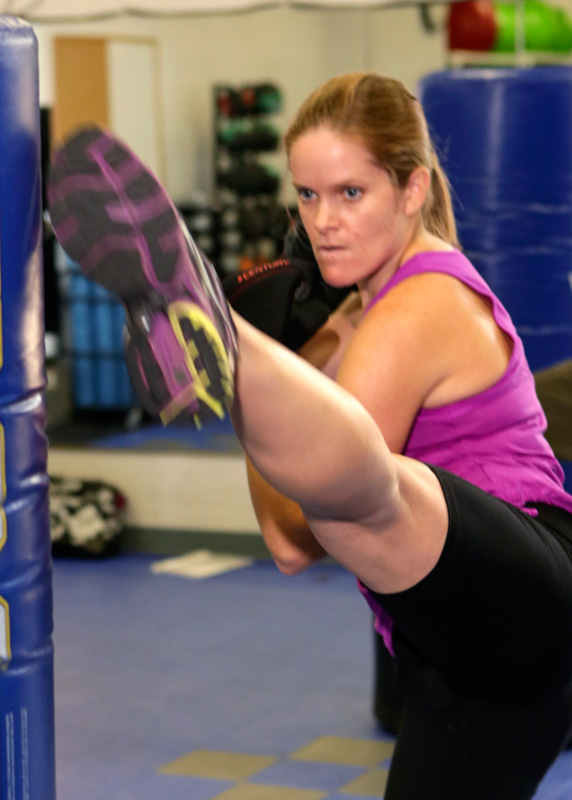 HUNTSVILLE, Ala. (Dec. 16, 2013) - Next year, as Just Move It (JMI) celebrates nine years of fitness and fun on the campus of The University of Alabama in Huntsville (UAH), something new will be added to the mix.
JMI classes will be taught by the Alabama State Association for Health, Physical Education, Recreation and Dance (ASAHPERD) Health Educator of Year. That's right. Tonya Meier-Hardy, UAH health and physical education faculty member recently received the ASAHPERD Health Educator of the Year Award. She officially received the award in October at the organization's fall conference. "I am completely overwhelmed and excited to receive such an honor. I love being able to help others."
JMI, UAH's 10-week fitness initiative officially begins on Monday, Jan. 27, and registration will be available to to all faculty, staff, students, and alumni on Thursday, Jan. 2. The health and fitness program encourages the UAH community to get up, get moving, and adopt a healthy lifestyle. Participants set personal exercise goals and track their progress online.
Meier-Hardy, a founding JMI committee member, started teaching exercise and health, and wellness classes for UAH's HPE department in 2004. "I was actually working in another department on campus at the time. Fitness had become very important in my life and I decided to make it my job as well. From there, I knew I was where I needed to be."
Certified through the National Commission for Health Education Credentialing as a certified health education specialist, Meier-Hardy holds a group fitness certification from the American Council on Exercise. She is also certified by the American Heart Association as a basic life support instructor. She teaches two of HPE's most popular distance learning courses, contemporary nutrition and health and wellness concepts. Additionally, she teaches exercise testing and prescription, basic life support for healthcare providers, and a variety of physical activity courses. Meier-Hardy earned a bachelor's degree in psychology from Birmingham-Southern College, and a master's degree in health studies from The University of Alabama.
"HPE is excited and proud that Tonya was selected as the Alabama health educator of the year," said David Kyle, HPE senior associate director at UAH. "We are glad that the ASAHPERD recognized what we've known for many years, that Tonya is one of the elite few of health educators. We also believe that the students would agree with us … Tonya's courses have the highest enrollments in our department and continue to have excellent student evaluations each semester. HPE would like to offer congratulations for her recognition and many thanks for her years of service to UAH students," Kyle added.
This is the second successive year that UAH's HPE Department and JMI has been recognized regionally and nationally. In fall 2012, Fitbie gave the university an "A+" for the JMI program. Fitbie, an interactive fitness site and wellness channel on MSN.com. ranked UAHuntsville with 19 other colleges in the country as one of "The 20 Fittest Colleges in America."
JMI season nine will offer participants freebies, lots of fun activities, seminars and programs while getting fit. Once again, JMI will partner with the state's weight loss and fitness program, Scale Back Alabama for participants interested in losing weight. Information about both programs can be found at the website www.uah.edu/jmi, or by contacting Liz Redding, HPE program specialist at 256.824.2189.
Below, Meier-Hardy shares some exercise and nutrition tips for fitness success for 2014:
"Treat exercise as your daily magic pill. Exercise regularly, starting with 10-minute bouts - and also focus on healthy meals and a good night's sleep."
"After developing a proper fitness plan think quality rather than quantity. Exercise smart, not more."
"Be an informed consumer about nutritional information. Eat real foods, but keep choices simple. The Choose My Plate website is a great place to start - no bull, just real food."
For more information, contact:
Joyce Anderson-Maples
256.824.2101
maplesj@uah.edu
---
You may also be interested in: