About
Clinic Features and Benefits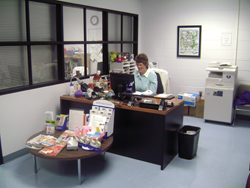 The clinic provides:
Access to care as soon as it's needed that results in faster recovery.
Accessibility to health education and counseling.
Staffing by Nurse Practitioner from the UAH College of Nursing in collaborative service with physician.
Promotes health and prevention of disease through a nurse practitioner focus.
Preventive services, such as immunizations and screenings, received on-site.
Accessibility to a healthcare provider on-site rather than facing difficulty of scheduling a visit off-site.
Background of Nurse Practitioners
Nurse Practitioners (NPs) are registered nurses who are prepared, through advanced education and clinical training, to provide a wide range of preventive and acute health care services to individuals of all ages. NPs complete graduate-level education preparation that leads to a master's degree.
NPs take health histories and provide complete physical examinations, diagnose and treat many common, acute, and chronic problems, interpret laboratory results and X-rays, prescribe and manage medications and other therapies, provide health teaching and supportive counseling with an emphasis on prevention of illness and health maintenance, and refer patients to other health professionals as needed.
Louise O'Keefe, Director of UAH Faculty & Staff Clinic
Nationally Certified Family Nurse Practitioner
Nationally Certified Diabetes Educator
Special interest in adult care, especially in the area of diabetes, heart disease, and employee health
Background in critical care as a registered nurse
Faculty, UAHuntsville College of Nursing
Graduated from George Mason University, Fairfax, VA (1997), Master of Science in Nursing
Amber McPhail, Family Nurse Practitioner
Nationally Certified Family Nurse Practitioner
Special interest in primary care and women's health
Graduated from UAHuntsville (2003), Master of Science in Nursing
Louise and Amber are licensed with the Alabama Board of Nursing and are active members of the North Alabama Nurse Practitioner Association.