B.S. in Business Administration (BSBA)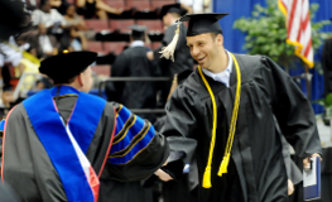 The College of Business Administration offers the Bachelor of Science in Business Administration (BSBA) degree with majors in accounting, finance, management, information systems, and marketing. To prepare students for the business challenges of the future, the program provides a solid foundation in the diverse academic disciplines related to the needs of business, industry, and government.
Curriculum
The BSBA is a comprehensive four-year program that includes a liberal arts and science foundation, a business administration core curriculum, a major, and a choice of elective courses.
Freshman and Sophomore Years
Students concentrate the first two years of study on general course work in composition, the humanities and fine arts, history, social and behavioral sciences, natural and physical sciences, and mathematics. Successful completion of the courses is designed to broaden the student's intellectual awareness and enhance the development of cultural literacy and analytical thinking.
Junior and Senior Years
The remaining two years of coursework develops the student's understanding of the diverse functions of business in the US and world-wide economy. This is accomplished by studying the essential concepts of business administration as well as focusing on one of the major disciplines.
For more detailed information on the courses, please see the Undergraduate Catalog.
Faculty
The UAHuntsville business faculty strives to create a success-oriented and student-focused learning environment where students are actively engaged in the educational process. The faculty and staff are accessible and cooperative. Our courses are designed around the attainment of practical application skills that prepare students for future careers. This focus, reflected in the design of the curricula, provides a total educational experience emphasizing critical thinking, problem-solving, communication skills, and preparation for life-long learning.