Student Organizations and Programs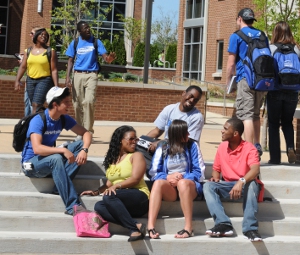 The College of Business Administration encourages students to become involved in as many student organizations as their interest, schedule, and educational goals permit. The experience contributes to your overall college education as well as gives you many opportunities for leadership and professional development. Other benefits for joining student organizations include:
making new friends
developing new skills and abilities
working as part of a team
learning to set and achieve goals
sharing your time and talents
Most organizations sponsor talks and presentations by business leaders in particular fields. Others arrange special events.
Open to all Students
The Economics Association is a forum where students and faculty discuss economic concepts and apply applications as well as promote interest in economic issues, both domestic and international.
For more information contact: econassoc@uah.edu
Our mission is to advance entrepreneurship on UAHuntsville campus by gathering like-minded students and immersing them in experiences that develop their skill sets and enhance their abilities to start their own businesses.
For more information contact: Foster Perry
The student chapter of North Alabama Information Systems Association is affiliated with the professional North Alabama Chapter of the Information Systems Security Association (ISSA). ISSA is a non-profit organization made up of 190+ Information Security professionals and practitioners in the Tennessee Valley.
We provide education forums, publications, and professional networking opportunities which enhance the knowledge, skill and professional growth of its members and our local community. The North Alabama ISSA Chapter is also affiliated with the international ISSA organization.
For more information contact: naissa@uah.edu
The mission of the iSystems Club is to provide an environment in which students can improve their business, social, and technical skills pertaining to Information Systems in order to have a competitive advantage when entering the workforce.
For more information contact: isystemsclub@uah.edu
The University of Alabama in Huntsville SCMA vision is to learn and share knowledge about how companies best serve their customers and collaborate with their suppliers. Our organization is open to all majors, in all colleges and all concentrations. In particular we go beyond the academic curriculum with hands-on experience.
For more information contact: scma@uah.edu
UAH-SHRM gives students the opportunity to interact with "real world" human resource managers, members of the professional community, and the North Alabama Professional SHRM chapter
For more information contact: Dr. Ivey Mackenzie
UAH-CONNXIONS will strengthen your marketing and management skills by connecting with local business resources.
For more information contact: Dr. Liwu Hsu
Invitation Only