About Our Visitors
Because of the high level of our scholarly faculty, we attract leading personalities to our campus. Campus visitors in 2009-2010 include: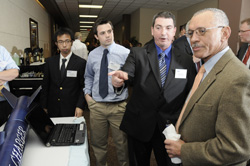 The new NASA Administrator, General Charles Bolden, visited the NASA-UAH SERVIR joint research facility in the National Space Science and Technology Center.
Four-star General James Cartwright, Vice Chair of the Joint Chiefs of Staff, lectured at UAH, answering student questions about U.S. foreign policy, rewriting the Geneva Convention and many other topics.
Four-star General Kevin Chilton, Commander of the U.S. Strategic Command visited UAH and spoke on national security issues.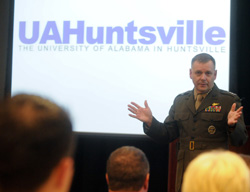 Marilyn Horne, described as "probably the greatest singer in the world" by Opera News, ran master classes for UAH choral students.
Many of our Indian students met Dr. Abdul Kalam, the past president of that nation of more than 1 billion people. Dr. Kalam, the father of the Indian space program and the Indian nuclear program, was the inspiration for many of those students to study science and engineering - but they had to come to UAH to meet him.
Jim Maser, President of Pratt Whitney Rocketdyne, visited our campus to open the company "skunk works", where PWR staff with UAH faculty, staff and students are on cutting edge research projects of mutual interest.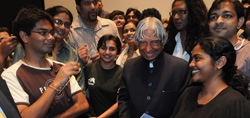 Macon Philips, White House Director of New Media, came on the UAH campus to talk about his experiences in the Obama campaign and in the White House.
Mark Roberts, executive producer of Two and a Half Men in Hollywood, came to UAH to help produce his own play with Professor David Harwell.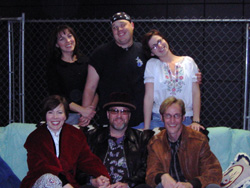 Lt. General Patrick O'Reilly, leader of the America's Missile Defense Agency taught a class in the UAH College of Business Administration - and left with a handful of student resumes.
Dr. Harrison (Jack) Schmidt, former U.S. Senator from New Mexico and the only scientist to walk on the moon as one of the crew of Apollo 17, visited UAH as spring 2009 graduation speaker and conducted a workshop on space policy.
Dr. Kristina Johnson, Undersecretary for Energy, flew directly from the Copenhagen meeting of the Intergovernmental Panel on Climate Change (where she chaired a symposium) to UAH where she was our fall 2009 graduation speaker.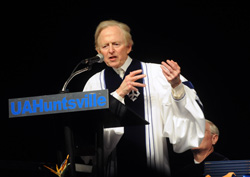 Dr. Jan Wörner, Chair of the German Aerospace Center (DLR) and the next Director of the European Space Agency, took part in a space policy workshop at UAH.
Dr. Tom Wolfe, noted author and journalist, was UAH's spring 2010 graduation speaker.
Dr. Neil DeGrasse Tyson, world famous astrophysicist, was UAH's fall 2010 graduation speaker.
Members of Congress, Parker Griffith and Robert Aderholt and Congressman-elect Mo Brooks visited the UAH campus along with Alabama Governor Bob Riley, Governor-elect Robert Bentley and many other local and state elected officials.