About

Take Charge
Go GREEN!
Charger Village Wins First Annual Residence Hall Energy / Recycling Competition
Congratulations to Charger Village on their win of the first annual Take Charge Go GREEN! Challenge for UAHuntsville residence halls! The contest ran October 1 – 29, 2010, and challenged residence halls to "Take Charge" of their energy consumption and recycling efforts. The competition included iniatives for recycling, energy conservation, and sustainability awareness.
Charger Village finished the contest with an impressive 186 contest points. Their energy consumption was measured at 272.5 kilowatt hours (kWh) per resident during the contest, more than 175 kWh per resident lower than the next lowest residence hall. Charger Village will receive a TROPHY, BANNER, and PIZZA PARTY!
Please join us in congratulating the residents of each residence hall for their great effort at spreading conservation and sustainability awareness across our campus.
Final Results: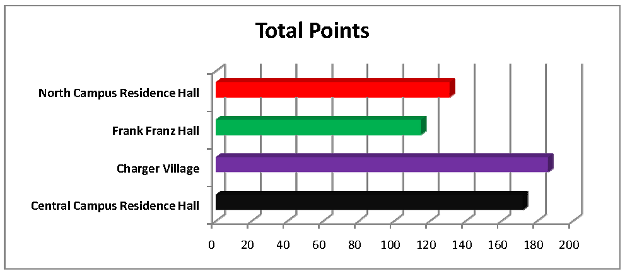 Check out our Take Charge Go GREEN! facebook page!
Scoring:
Points were given to each residence hall (CCHR, NCRH, FFH, Charger Village I) based on overall participation in each portion of the challenge. There were opportunities to win bonus points for participation in special activities including an Energy Scavenger Hunt, a Smoothie making contest, and helping to spread the word about Energy Awareness. Check out the Scoring Page and the Programs List for more information on scoring and how points were earned.
Contest Information:
Throughout the competition weekly scoring results were posted to this site on the TCGG Progress Page.
Electric meters were read and recycling pickup took place on October 1st. All electricity used and recyclables collected afterward until October 29th were measured as a part of the contest.
Recycle pickup and electric readings were taken on Fridays.
Prior week's results were posted on Tuesdays.
Prizes:
The winning residence hall will receive a special TROPHY and PIZZA PARTY for the entire hall. Individual housing residents will have the opportunity to qualify for an iTunes gift card by attending the TVA Energy Scavenger Hunt. Other prizes and incentives will also be available. Check out the Programs List for more information.
Grand Prize:
Pizza Party for the winning residence hall (Sponsored by the SGA)

Thursday, November 4
11:00 a.m. - 1:00 p.m.
At the winning Residence Hall

Banner (sponsored by the SGA)
Trophy (donated by Valley Trophies)