iSystems Club debuts new app for Android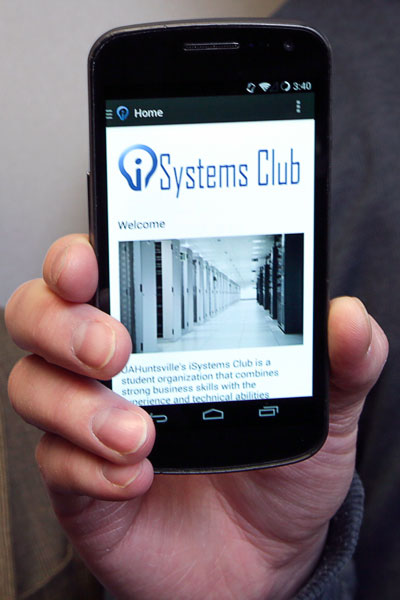 HUNTSVILLE, Ala. (March 6, 2014) - Though it's one of the newest student-run organizations on campus, the iSystems Club at The University of Alabama in Huntsville (UAH) is already one of the most productive.
Over the past year, members have donated their time to helping local non-profits like the United Way of Madison County and the Huntsville Community Chorus Association redesign their websites. And now, the club is the first on campus to have its own app.
Available through the Google Play store for free, the iSystems Club app presents all the content of the iSystems Club website in a mobile friendly format. But more than that, it's testament to the creativity and expertise that the club's members possess.
The project actually began last semester, when the College of Business Administration's Director of Network Support and club faculty advisor, Chakri Deverapalli, learned that one of his students had the skills necessary to help the club realize its goal of developing an app.
"I mentioned I work full time as a mobile applications developer for SAIC, and he basically recruited me," says Lee Smithson, a married father of three and UAH senior who is majoring in information systems. "And I'm up for doing any kind of extra work, so I started the project and then joined the club."
As project manager, Smithson says his priority was making sure his team members - including Josh Deaton and Clay White - were up to speed on programming basics. "We started at the beginning and I showed them templates," he says. "Then I wrote out brief tutorials for them for each of their sections."
After that, each person worked on their section, emailing weekly to keep the others apprised of their progress. "Sometimes it was kind of stressful because we only had a certain amount of time," says Smithson. "But it was exciting."
Not to mention good experience. While Smithson tackled the challenges of being a first-time manager, his team members were adding new skills to their toolbox. And that, says, Dr. Yeqing Bao, is the real value organizations like the iSystems Club bring to UAH.
"What they have been doing is a wonderful opportunity for students to use what they learn in class to solve real-world problems," says Dr. Bao, who serves as the College of Business Administration's Associate Dean of Undergraduate and International Programs. "That gives them an advantage in their careers and a leg up on their competitors."
It's also why the College of Business Administration is now in the process of introducing a formal experiential learning component. "Previously we've encouraged students to take advantage of internships, co-ops, clubs, and study abroad trips," says Dr. Bao. "But now we're making hands-on experience a requirement."
After all, he continues, "the world is becoming more competitive and the economy itself is demanding more from the students." And education is no longer just about getting a degree. "The learning environment is changing," he says, "and employers want students who come ready to work on problems."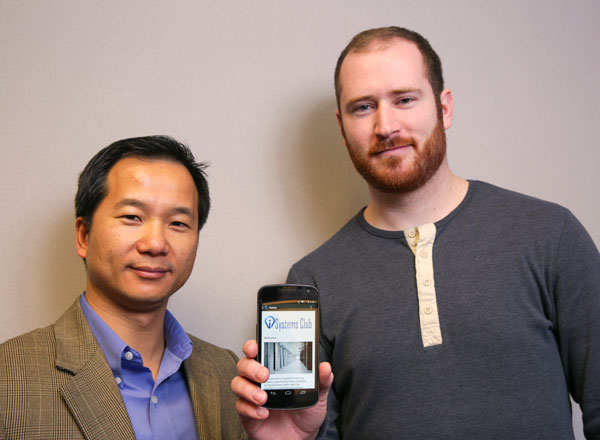 To that end, the college is dedicating itself to opening more avenues for students - many of whom balance work and family commitments with their course loads - to meet the new requirement. "By formalizing it now," says Dr. Bao, "we can revise the curriculum and plan the program of study so it will be easier to incorporate such experience."
And hopefully easier to land a job after graduation, not just thanks to real-world experience but also to an increased level of confidence. "That's something we impress on the students, that they possess this potential," says Dr. Bao. "Not all students get it, so this allows them to think about how capable they are."
As for Smithson, there's no doubt the project management experience and confidence he gained from the project will one day prove useful in his work place. But for now he's ready for his busy life to become a little less busy - as is his wife.
"It was suggested to me to run for officer of the iSystems Club, but after having so little time for being a project manager, I don't think my wife would appreciate that!" he says with a laugh.