Study Abroad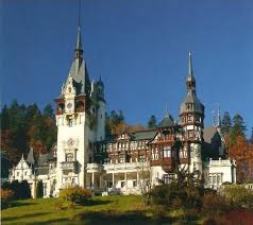 Spending a semester in a Study Abroad program is an enriching experience that will change your life, both academically and personally. The experiences you will have and the lessons you will learn cannot be duplicated on any campus in the United States.
Romania: June 9 - 21, 2013 (1st Five-Week Semester)
The College of Business sponsors a two-week summer Study Abroad program in Romania. The program includes classes at the Romanian-American University as well as cultural activities and trips.
Panama: July 14 - 26, 2013 (2nd Five-Week Semester)
This two-week course is intended to give students a general understanding of a developing nation that is experiencing over the last years a vast economic growth. Through lectures and field trips, students will learn about the development challenges, opportunities and potential risks faced by different institutions and agencies that promote sustainable development activities in order to protect natural resources and that also contribute to the economic growth of the country. The course will combine lectures, case studies, guest speakers, field trips, and group activities.
Provisional Schedule:
Sunday, July 14th: Welcome
Arrive in Panama City and transfer to the City of Knowledge (bus provided by CATHALAC)
Check in at City of Knowledge housing or Clayton Hotel
Evening Program: Welcome orientation and light dinner
Monday, July 15th: Introduction
Introduction to CATHALAC and Course
Tour City of Knowledge Campus
Guest Speaker: "Environmental Business Opportunities in Panama"
City Tour & welcome dinner
Tuesday, July 16th: Panama Canal Watershed
Miraflores Locks Visiting Center and expansion area. Presented by ACP Staff.
Class discussion and preparation for field trip to PIEA, led by ACP, UAH faculty & CATHALAC.
Vulnerability of the Panama Canal Watershed –study of CATHLAC.
Wednesday, July 17th: - Friday July 19th: The Environmental Economic Incentive Program (PIEA), Panama Canal Watershed
This Program was created with the objective of improving the quality of life of residents living within the boundaries of the Panama Canal Watershed through the financing of environmentally friendly projects such as reforestation, conservation and restoration of forests, agroforestry and silvopastoral livestock, among others. At the same time, the project seeks to conserve water resources in the Panama Canal Basin, given its importance for human consumption, hydropower generation and transit of ships through the Panama Canal. This project has been carried out after a cooperation agreement between the Panama Canal Authority (ACP in Spanish), the National Authority of Environment (ANAM in Spanish) and the Ministry of Agricultural Development (MIDA in Spanish) and has benefited a number of producers in more than 40 different towns within the Panama Canal Hydrographic Watershed.
Visit to case study farms that benefit from the Environmental Economic Incentive Program (PIEA, in Spanish) within the Panama Canal watershed. Led by ACP & CATHALAC and UAH Faculty.
Students will be divided into groups and will become familiar with the case study farms and will analyze their success by looking at:
Qualitative Quantitative data: Gathering data in case study farms;
Market analysis in the studied farms;
Test different incentives for sustainability;
Environmental sensitivity & Information
Analysis and evaluation of the farms performance take into consideration different factors: location, accessibility, decision making, and organization of communities.
Saturday, July 20th – Sunday July 21st: Overnight Weekend Trip. Return Sunday noon.
July 22nd -24th: Data processing & Lectures
Mornings: Data processing: Students will evaluate recommendations for improving the Economic Incentives Program.
Afternoons: Lectures by CATHALAC and guest speakers
Evenings: Group Activities
July 25th: Presentations
Each group will present diagnosis of research findings to CATHALAC, Program staff, invited guest (guest speakers, ACP, program collaborators).
Students will need to elaborate final reports back in Huntsville
July 26th: Return Home
---
If you have plans to attend a summer abroad program and need assistance purchasing a plane ticket, be sure to complete our online form for a travel stipend.
Other Programs
Additional Panama program available: UAHuntsville offers an eight-week research and study abroad program focusing on Climate Change and Sustainable Development in Latin America and the Caribbean.Through the Water Center for the Humid Tropics of Latin America and the Caribbean (CATHALAC) participants will receive professional training, hands-on learning, cultural immersion, and will embark on experiencing how global climate change influences sustainable development in Latin America and the Caribbean. While in Panama, students/participants will conduct supervised research projects, learn Spanish, explore Panama and live with host families.
Participants will have the opportunity to explore firsthand the diverse direct and indirect effects of a changing climate on natural and human systems, and are encouraged both individually and as a group to delve into complex topics and address challenging questions relevant to contemporary regional and national climate change problems. CATHALAC provides knowledgeable, experienced professionals who guide and mentor students in their learning process. This unique program offers university students and young professionals the opportunity to experience a new culture while working towards promoting sustainable development in Latin America and the Caribbean.
The UAHuntsville Department of Foreign Languages and Literatures offers summer study abroad programs in France and Spain.
A searchable database of over 800 institutions offering study abroad opportunities is located at: http://www.studyabroad.com/