Drugs from the Cloud Forest
The Search for New Medicines from Monteverde, Costa Rica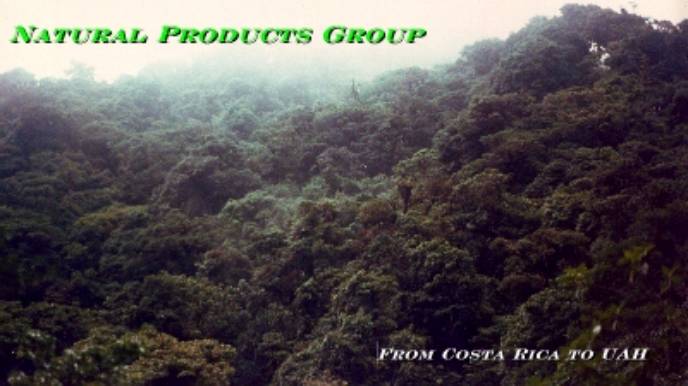 The purpose of this research is to carry out exploratory research on the isolation, biological testing and identification of potentially useful natural products. In collaboration with William A. Haber of the Missouri Botanical Garden, we have investigated plant materials from Monteverde, Costa Rica. Specifically, we collect plant materials from the Monteverde Cloud Forest Reserve and the Monteverde community, Costa Rica. We concentrate our screening on the Araliaceae, Lauraceae, Myrtaceae, Fabaceae, and Rutaceae families. Crude extracts from these plants are tested for fungicidal and antibacterial activity, antitrypanosomal activity, and cytotoxicity. Those extracts that show biological activity are fractionated and the active compounds identified.
This project is especially attractive in that not only does it provide us with additional new pharmacopeia from natural sources (before those sources are lost through deforestation and other habitat destruction), but it also serves to provide additional arguments for conserving the diversity of the tropics as well as identifying potential alternative (and ecologically less damaging) "cash crops" for critical tropical habitats. Thus, this project also addresses the problem of the degenerating environment in tropical America; the crisis of the decline of biodiversity in these areas. Specifically, this project involves:
a) an inventory of tropical biota in terms of medicinal natural products;
b) conservation of tropical natural areas; and
c) providing alternative cash crops for critical tropical habitats.
Another attractive feature of this project is the interdisciplinary nature of the research. There are five principal collaborators who bring many different areas of complementary expertise into the project. In addition, the project provides hands-on experience for undergraduate students. The Departments of Chemistry and Biological Sciences and the University of Alabama in Huntsville are all acutely aware of the potential shortage of future scientists and we are therefore committee to undergraduate research participation as part of quality scientific education and training.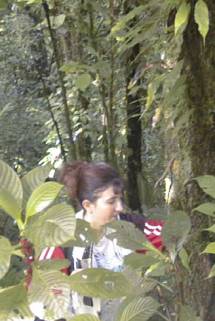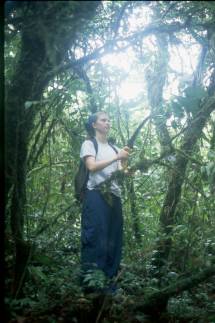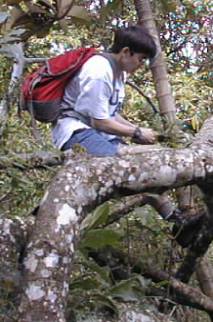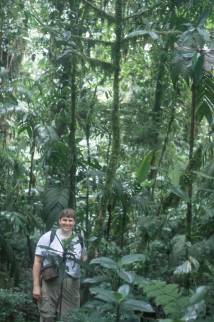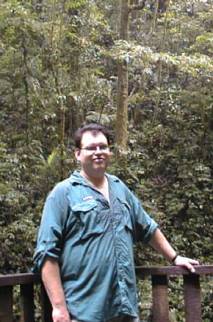 The Monteverde region of the central Cordillera de Tilarán in northwestern Costa Rica, like most tropical montane areas, is physiographically and climatically diverse. The region is floristically one of the most diverse in the world. The slopes of the Cordillera above 1200 m elevation contain ~1700 plant species while the area above 700 m in the Cordillera de Tilarán contains ~3000 plant species.
Some Representative Publications
Setzer MC, Moriarity DM, Lawton RO, Setzer WN, Gentry GA, Haber WA. 2003. The phytomedicinal potential of tropical cloudforest plants from Monteverde, Costa Rica. Revista Biologica Tropical 5i: 647-674.
A pharmacological survey of plants from Monteverde, Costa Rica, including 165 species representing 61 families has been carried out. Crude plant extracts have been tested for in-vitro bactericidal and fungicidal activity as well as cytotoxic and anti-herpes activity. Of these, 123 extracts exhibited notable cytotoxicity, 62 showed antibacterial activity, 4 showed antifungal activity, and 8 showed promising antiviral activity. Thus, 101 of the plant species examined in this work, or 62%, showed marked bioactivity in one or more bioassays. These results underscore the phytomedicinal potential of Neotropical cloud forests.
| | |
| --- | --- |
| | |
| Monteverde Cloudforest Preserve | San Lois Preserve |
Setzer WN, Vogler B, Bates RB, Schmidt JM, Dicus CW, Nakkiew P, William A. Haber WA. 2003. LC-NMR / LC-MS analysis of Stauranthus perforatus bark extract. Phytochemical Analysis 14: 54-59.
A combination of LC-MS and LC-NMR techniques have been used to analyze the cytotoxic fractions of the dichloromethane bark extract of Stauranthus perforatusfrom Monteverde, Costa Rica. Six furanocoumarins (byakangelicol, heraclenin, heraclenol, imperatorin, isopimpinellin, and xanthotoxin) and nine quinoline alkaloids (two known compounds, veprisine and 5-hydroxy-1-methyl-2-phenyl-4-quinolone, along with seven novel compounds, stauranthine, 3',4'-dihydroxy-3',4'-dihydroveprisine, 3',4'-dihydroxy,-3',4'-dihydrostauranthine, 3',6'-dihydroxy-3',6'-dihydroveprisine, 3',6'-dihydroxy-3',6'-dihydrostauranthine, 6'-hydroxy-3'-ketoveprisine, and 6'-hydroxy-3'-ketostauranthine) have been identified in the fractions.
| | |
| --- | --- |
| | |
| Stauranthus perforatus | Stauranthine |
Setzer WN, Noletto JA, Lawton RO, Haber WA. 2005. Leaf essential oil composition of five Zanthoxylum species from Monteverde, Costa Rica. Molecular Diversity 9: 3-13.
The leaf essential oils from five species of Zanthoxylum (Rutaceae) from Monteverde, Costa Rica, have been obtained by hydrodistillation and analyzed by gas chromatography-mass spectrometry. The species examined include Z. fagara, Z. acuminatum, Z. melanostictum, Z. monophyllum, and an undescribed species. The most abundant classes of compounds found in Zanthoxylum leaf oils are acyclic and menthane monoterpenoids as well as simple alcohols, aldehydes, and ketones. In terms of molecular diversity, menthane and acyclic monoterpenoids, cadinane and mesocyclic sesquiterpenoids, and simple alcohols, aldehydes, and ketones dominate the essential oils of Zanthoxylum species. Monoterpenoids make up the majority of the mass of the leaf oils of Z. monophyllum, Z. acuminatum, Z. fagara, and Zanthoxylum sp. nov. Linalool, 4-terpineol, a-terpineol, and trans-2-hexenol, are found in all of the Zanthoxylum species examined in this study.
| | |
| --- | --- |
| | |
| Zanthoxylum fagara leaves | Zanthoxylum fagara trunk |
Setzer WN, Vogler B, Schmidt JM, Petty JL, Haber WA. 2005. Isolation of cupanioside, a novel cytotoxic and antibacterial long-chain fatty alcohol glycoside from the bark of Cupania glabra. Planta Medica 71: 686-688.
The crude dichloromethane extract from the stem bark of Cupania glabra (Sapindaceae), showed in-vitro cytotoxic activity against Hep G2, MDA-MB-231, Hs 578T, MCF-7, and PC-3 cells, and antibacterial activity against Bacillus cereus, Staphylococcus aureus, and Escherichia coli. Bioactivity-directed fractionation led to isolation of the novel 1-O-[2',3',4'-tri-O-acetyl-a-L-rhamnopyranosyl-(1®2)-b-D-glucopyranosyl] hexadecanol (cupanioside) as the cytotoxic agent. The structure was elucidated by analysis of 2D-NMR spectra.
| | |
| --- | --- |
| | |
| Cupania glabra | Cupanioside |
Related Webpages