John P. Ballenger, Ph.D.
Management Science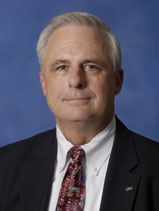 Associate Research Professor, Director, Center for the Management of Science and Technology
Office: 323 BAB
Education
Ph.D. - Educational Psychology, Cognate in Business, 1980
M.Ed. - Educational Psychology, Georgia State University, 1974
B.I.E. - Industrial Engineering, Auburn University, 1969
Academic Experience
1986-Present: University of Alabama in Huntsville, Graduate and Undergraduate Faculty, College of Business Administration
1984-1985: Boston University, Undergraduate Faculty, College of Business
1979-1980: Georgia State University, Graduate Faculty, College of Business
1977-1980: Embry-Riddle Aeronautical University, Undergraduate Faculty
Current Teaching Repsonsibilites
Operations Analysis (MSC 385)
Operations Management (MSC 600)
Industry Experience
9/07 - Present: Director of Center for the Management of Science & Technology (CMOST) and Associate Research Professor at the University of Alabama in Huntsville. Direct the research efforts of UAH research center and also teach management science courses (graduate & undergraduate). Direct marketing efforts of CMOST to obtain research funding from government and industry.
2/02 - 9/07: Program Manager of two RMS programs: Advanced Extended Range Attack Missile (AERAM) and Active Electronically Scanned Array (AESA) Seeker, Raytheon Missile Systems, Huntsville, AL. Manage Raytheon engineering teams in Huntsville, AL and Tucson, AZ and four subcontractors for L-RAM (Camber Corporation, Iron Tree Research Corporation, Teledyne Brown Engineering Corporation and Teledyne Continental Motors. Retired from Raytheon Missile Systems on 31 August 2007 after 27 years service.
2/00 - 2/02: Advanced Projects Manager, Raytheon Missile Systems, Huntsville, AL. Provided on-site management of all Raytheon Missile Systems advanced programs in the Army's Aviation & Missile Research, Development and Engineering Center (AMRDEC), Aviation and Missile Command (AMCOM), Redstone Arsenal, Alabama
5/95 - 2/00: Requirements Manager, Enhanced Fiber Optic Guided Missile (EFOGM) Program, Raytheon Systems Company, Huntsville, AL. Managed all EFOGM marketing, advertising, and public relations activities for the $140M EFOGM Advanced Technology Demonstration (ATD) program.
6/92 - 5/95: HAWK & FAAD Programs Manager, Huntsville Office, Missile Systems Division, Raytheon Company, Huntsville, AL. Managed all HAWK Missile System, MRSR radar and Forward Area Air Defense (FAAD) Systems marketing, customer liaison, advertising, and public relations in the Redstone Arsenal-Huntsville area.
12/88 - 6/92: Requirements Manager, Raytheon Corporate Marketing, Raytheon Company, Huntsville, AL. Managed Army land combat systems marketing efforts for Raytheon Company in the Southeastern Region of the United States which included BAT, Infrared Terminally Guided Submunition (IRTGSM), Fiber Optic Guided Missile (FOG-M), and Guided Anti-armor Mortar Projectile (GAMP).
10/85 - 12/88: Software Engineering Manager, Raytheon Service Company, Huntsville, AL. Managed team of computer scientists and software engineers at two locations: Huntsville, AL and Warner Robins Air Force Base, GA. Managed VAX computer system for Raytheon Service Company in Huntsville.
3/84 - 10/85: Research Scientist, Raytheon Service Company, Burlington, MA. Assisted in the design of Taiwan's National Measurement Laboratory, and assisted in the selection and testing of measurement equipment.
9/82 - 3/84: Program Manager, Beech Aircraft Aviation Training Program, Raytheon Service Company, Wichita, KS. Managed a team of training and software developers responsible for the design and development of integrated, individualized training program for pilots of the Beechcraft Super King Air B200 in Beech Aircraft's new $14M training facility.
9/80 - 9/82: Director, Behavioral Systems, Raytheon Service Company, Burlington, MA. Managed research and development of interactive videodisks and computer assisted instruction (CAI). Conducted operations research and system analysis for Raytheon's Missile System Division for Guided Antiarmor Mortar Projectile (GAMP).
11/76 - 9/80: Operations Research Analyst, Directorate of Combat Developments, Fort Benning, GA. Project Manager for the Improved TOW Vehicle (ITV) Cost & Operational Effectiveness Analysis (COEA). Co-managed Lightweight Company Mortar COEA.
5/75 - 11/76: Education Specialist, Directorate of Training Development, Fort Benning, GA. Project Manager of Army-Wide Skill Qualification Tests for Infantrymen (MOS 11C). Managed a team of military and civilian test developers with responsibility for design and validation of MOS 11C tests.
6/74 - 5/75: Industrial Engineer, Milliken Company, LaGrange, GA. Responsible for all labor standards and machine utilization at new textile plant.
Military
Distinguished Military Graduate, Army ROTC. Commissioned in Regular Army, Field Artillery, June 1969 and advanced to the rank of Captain in 1971. Released from active duty in June 1974 with Honorable Discharge. Assignments at Fort Sill, Fort Benning, and Vietnam. Field Artillery Instructor and Nuclear Weapons Instructor, Brigade & Battalion Operations Department, Infantry School (1970 - 1974). Completed FA Officer's Basic and Advanced Courses and Nuclear and Chemical Weapon Target Analysis (Prefix 5) Course.
Publications
GAMP in Support of Light Forces in Contingency Operations, Nonstatistical Effects of Random Number Generators Within PC Based Military Stochastic Simulations, Defending Maneuver Units Against Chemical UAVs, Early Entry Force Deployability, Statistical Perspective of Historical Analyses of Attrition Order Threat After Next, Enhanced Fiber-Optic Guided Missile (EFOGM): Precision Fire for Early Entry Forces, Countering the Chemical Threat in the Next Century, Fratricide on the Modern Battlefield, Non-Line-of-Sight Precision Fire for Korea,Exploring the Milgram Experiments, Unintended Targets: Prelude to Fratricide, Minimizing Fratricide From Indirect Fire, Exploring the Value of Information, Quantifying the Value of Information, The Cognitive Gap in Information Warfare, and Technical Report CR-RD-AS-03-01, The Enhanced Area Air Defense's (EAAD's) Ability to Protect Friendly Forces and Assets Against Enemy Rockets, Artillery Projectiles, and Mortar Projectiles: An Independent Assessment, AMRDEC, AMCOM, July 2003 (DoD and DoD Contractors Only).
Awards
Raytheon Author Awards: 1993, 1997, 1998, 1999, 2000, and 2001
Raytheon Inventor's Award: 1986, Digital Topographic Planimeter invention
Professional of the Year Award, Huntsville Association of Technical Societies, 12 May 1998
Professional Organizations
American Mathmematical Society (AMS)
The Association for Operations Management (APICS)
Association of the United States Army (AUSA), Redstone-Huntsville Chapter; Vice President, Membership Retention (2002 – 2007), Vice President, Legislative Affairs (2000-2002)
Army Aviation Association of America (AAAA)
Institute for Operations Research and Management Science (INFORMS)
Mathematical Association of America (MAA)
Military Applications Society of INFORMS; President (2000-2002); Vice President-President Elect (1998-2000); Membership Chairman (1997- 1998)
Redstone Arsenal-Huntsville Military Operations Research Section (RAHMORS); Charter Member, Treasurer, President, and Executive Council.
Sigma Xi, the Scientific Research Society