Richard G. (Dick) Rhoades, Ph.D.
Management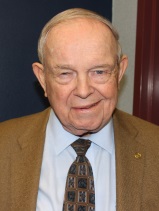 Professor, Director of Research Institute

Office: 345 BAB, VBRH E47
Education
PhD, Rensselaer Polytechnic Institute - 1964
MS (Mgmt) - Massachusetts Institute of Technology - 1977 (as a Sloan Fellow)
BCHE, Rensselaer Polytechnic Institute - 1960
Career
Dr. Rhoades began his Army career in uniform, serving as an Ordnance Officer from 1963-1965. He then became a civilian propulsion research engineer and technology program manager, before being selected for his first Senior Executive Service position in 1973 as Director of Propulsion. Subsequently, he served in both of the Missile Research Development, and Engineering Center's Associate Director positions - serving as Associate Director for Technology from 1981-1989 and (in his final Government position) as Associate Director for Systems beginning in 1989. As such, he was responsible for all the Center's activities in support of weapon system development, acquisition, and sustainment. In essence, he functioned as "Chief Operating Officer" of the Center, focusing on strategic and business planning, personnel development, and customer relations issues.

In addition to his normal assignments, Dr. Rhoades served on a number of senior-level ad-hoc groups within the Army and Department of Defense. In so doing, he played a leadership role for over a decade in the development and implementation of strategy for fundamentally restructuring and improving the Army's science and technology organizations. For example, he developed the organizational design and operating concepts used for Army Research, Development, and Engineering Centers, helped to develop the Army's response to the Defense Management Review and helped to guide the LAB-21 study that led to the formation of the Army Research Laboratory. In 1990-1991, he lead an AMC-wide team to convert AMC's Vision¬2000 downsizing concept to reality through the Base Realignment and Closure (BRAC)Commission process. The BRAC-95 decision to form the Aviation and Missile Command is direct outgrowth of that planning. He also chaired a tri-service Implementation Panel created to execute quality improvement initiatives (a "Reinvention Laboratory") for DOD laboratories. Under his leadership, this Reinvention Laboratory obtained legislation to permit significant improvements in laboratory construction, personnel management, and research contracting.
In October 1997 Dr. Rhoades became Director of the UAH Research Institute and was also appointed to the faculties of the Colleges of Engineering and Administrative Science as Professor of Engineering Management. The Research Institute, including the Aerophysics Research Institute, has a staff of over 50 professionals and annual revenue of approximately $6 million, primarily from DOD customers. Dr. Rhoades currently teaches courses in the MBA program.
Dr. Rhoades has published numerous articles on propulsion and management topics and holds two patents on propulsion inventions. His most recent article, "Cycle Time Reduction in Defense Acquisition" appeared in the September/October 2010 issue of Research Technology Management and was co-authored with Dr. Dan Sherman.
Awards
Presidential Rank Awards (1986, 1988, 1991)
Superior/Meritorious/Exceptional Civilian Service Awards (1993,1983, 1993)
MICOM and AMC Commander's Awards (1985, 1991)
American Defense Preparedness Association (Picatinny Chapter) Firepower Award (1989)
Brooks Prize for Best Thesis - MIT (1977)
UAH Alumni Award for Outstanding Leadership in Government (1997)
National Defense Industrial Association John B. Medaris Award (1999)
UAH College of Administrative Science Outstanding Graduate Teaching Awards (2003,2006)