John E. Burnett, Ph.D.
Finance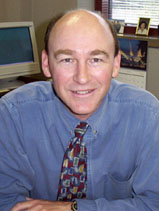 Associate Professor
Office: 380 BAB
Education
Ph.D. - University of Alabama, Finance, 1992
M.A. - Claremont Graduate University, Mathematics, 1983
B.S. - University of New Mexico, Mathematics, 1981
Academic Experience
2011-2012 - Associate Dean, College of Business Administration, University of Alabama in Huntsville, Huntsville, Alabama
2009-2011 - Interim Chair, Department of Accounting and Finance
1997-present - Associate Professor of Finance, College of Business Administration, University of Alabama in Huntsville, Huntsville, Alabama
2002-2004 - Director of Assessment and Accreditation, College of Business Administration, University of Alabama in Huntsville, Huntsville, Alabama
1997-2002 - Assistant Dean, College of Business Administration, University of Alabama in Huntsville, Huntsville, Alabama
1992-1997 - Assistant Professor of Finance, College of Business Administration, University of Alabama in Huntsville, Huntsville, Alabama
Industry Experience
1987-88 - Senior Software Analyst, Federal Systems Division, The Intergraph Corporation, Huntsville, Alabama
1983-87 - Mathematician, The BDM Corporation, Huntsville, Alabama
Research Interests
Behavioral Finance
Investments
Current Teaching Responsibilities
Investment Practicum (FIN 400)
Investments (FIN 460)
Portfolio Management (FIN 461)
Principles of Finance (FIN 301)
Seminar in Behavioral Finance (FIN 620)
Recent Publications
John E. Burnett, Carolyn Carroll and Paul Thistle, "The Relative Impact of Public Information in Shaping Investor Expectations," Journal of Applied Business Research, Vol. 25 (2), March/April 2009, pp. 51-68.
"The Application of Supply Network Optimization and Location Analysis to a DoD Repair Supply Chain," (with William Killingsworth, David Berkowitz, and Jim Simpson), Defense Acquisition Review Journal, vol. 15, no. 3 (December 2008)
Darryl A. Seale and John E. Burnett, "Solving Large Games with Simulated Fictitious Play," International Game Theory Review, Vol. 8 No. 3 (September 2006).
Paul Thistle and John E. Burnett, "Computing Sets of Expected Utility Maximizing Distributions for Common Utility Functions," Applied Financial Economics , Vol.11 (2001), pp. 269-277.
Jayen B. Patel, Dorla A. Evans and John E. Burnett, "Junk Bond Behavior with Daily Returns and Business Cycles," The Journal of Financial Research , Vol. 21 No. 4 (Winter 1998).
John E. Burnett and Bruce M. Wampler, "Unit Price Contracts: A Practical Framework for Determining Competitive Bid Prices," The Journal of Applied Business Research, Vol. 14 No. 3 (Summer 1998).
"Political Campaigns as Rent-Seeking Games: Take the Money and Run," (with Chris Paul and Allen Wilhite), Public Finance Quarterly , vol. 25 no. 5 (September 1995).
"The Detection of Nonstationarity in the Market Model," (with C. Carroll and P. Thistle), Quarterly Journal of Business and Economics, vol. 35 no. 1 (Winter 1996).
"Effective Bid Pricing for Unit Price Contracts," (with J. Howard Finch), Engineering Economist, vol. 39 no. 4 (Summer 1994).
"Implications of Multiple Structural Changes in Event Studies," (with C. Carroll and P. Thistle), Quarterly Review of Economics and Finance, vol. 35 no. 4 (Fall 1995).
"Using a Competitive Bid Problem to Teach Capital Budgeting," Financial Practice and Education, vol.5 no. 2 (Fall/Winter 1995).
Other Professional Activities, Honors, and Awards
Visitor - The Driehaus Center for Behavioral Finance, Dr. Werner De Bondt, Director, DePaul University, 2005-06
Lecturer - "Free Market Economies and the Role of Financial Institutions and Markets", Bucharest, Romania, 1996
Outstanding Service Award, College of Business Administration, UAH, 2002-03
Outstanding Teaching Award, College of Business Administration, UAH, 1996-97
Outstanding Research Award, College of Business Administration, UAH, 1996-97
University of Alabama Outstanding Dissertation Award, 1992-93