C. David Billings, Ph.D.
Finance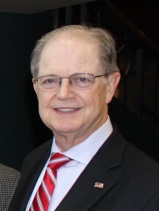 Professor, Dean Emeritus
Office: 303 BAB
Honors, Achievements and Affiliations
Dr. Billings served as the founding dean of the University of Alabama in Huntsville College of Business Administration for 26 years. At the end of his deanship the College was ranked number 79 among business schools at public universities. The Carnegie Foundation classified UAHuntsville as a High Research Activity University. He raised endowments to support students and faculty. He was the principal investigator on contracts and grants. During his deanship the College funded its first eminent scholar, promoted its first distinguished professor, built a business school building, was accredited by AACSB International, recognized by the National Research Council, and ranked among the top 10 per cent of business schools in the U.S.
Prior to joining UAHuntsville, he served The University of Georgia as Academic Coordinator of Graduate Business Programs (masters and Ph.D.) and as a member of the Banking and Finance faculty and of the Institute of Government.
He received the Huntsville Rotary Club Vocational Excellence Award. He has been named to Who's Who in the South and Southwest, Who's Who in American Education, Who's Who in Finance and Industry, and Who's Who in the World.
Dr. Billings has served as a session chair and presenter at meetings of AACSB-International and the Southern Business Administration Association. He served as the founding Convening Dean of the AACSB-International's Metropolitan Business Schools Affinity Group during 1998 - 2003.
Dr. Billings served on the AACSB Pre-Accreditation Committee and on the Candidacy Committee. During 2000-01 he served as the editor for the revision of the AACSB Pre-Candidacy/Candidacy Manual. He has served as a facilitator for AACSB's Business Accreditation Seminar, Accreditation Reviewer Training Seminar, and Maintenance of Accreditation Seminar. He has assisted schools with accreditation as a peer review team chair, continuing review team chair, merger monitoring team chair, business accreditation advisor, pre-candidacy advisor, pre-accreditation mentor, candidacy liaison, pre-accreditation liaison, accreditation workshop presenter, andaccreditation consultant. Dr. Billings has provided accreditation assistance to more than 60 schools inside and outside the U.S.
Education
University of Missouri at Columbia, Ph.D.
Missouri State University (formerly Southwest Missouri State University), B.S.
Specialty Areas
Assessment and Institutional Effectiveness
Accreditation of Business Schools
Business
Budgeting and Finance
Research Description
Dr. Billings served as editor of State and Local Government Review for six years (1975-81). He has taught undergraduate and graduate courses in finance. He has served on Ph. D. committees in economics, finance, public administration, and real estate. He has been the principal investigator on several federal grants and contracts. Dr. Billings is the author of more than 60 publications.
The College of Business Administration received grants and contracts from the National Science Foundation, National Aeronautics and Space Administration, U.S. Department of Defense, U.S. Department of Education, U. S. Small Business Administration, U.S. Information Agency, Soros Foundation and several corporations. The College led an externally funded four-year study of International New Product Development that involved a network of researchers, universities and companies in 21 countries. The National Research Council recognized UAHuntsville as one of the pioneers in teaching and researching management of technology (1991).
Selected Publications from More than 60 Publications
"Faculty Intellectual Contributions under the new AACSB International Accreditation Standards (with Allan D. Spritzer), Journal of Business and Behavioral Sciences (13.1 Fall 2005) pp. 46 - 64.
"Developing Partnerships Between Industry and Academia," (with William E. Souder). Product and Process Innovation . Volume I (November/December 1991)pp. 8-14.
"Topics for Cost Analysis 2000 Plan." Washington: U.S. Army Cost and Economic Analysis Center (July 1990).
"Career Management of Technical Personnel." Washington: U.S. Army Cost and Economic Analysis Center (July 1989).
"Rationale for Applying Learning Curves for Standard Militarized Commodities." Washington: U.S. Army Cost and Economic Analysis Center (June 1988).
"Economic Analysis of the Acquisition Strategy for the Single Channel Ground and Airborne Radar System (SINCGARS) Program." Washington: U.S. Army Cost and Economic Analysis Center (July 1987).
"Assessing the Role of Business Schools in the Market for New Economics Ph.D.'s," (with Rudolph A. White and Robert D. Brown, Jr.). The Journal of Economic Education, Vol. 12, pp. 34-44, 1981.
"The Prospects for MBA Enrollments, 1978-1990," (with Rudolph A. White). Journal of Management , Vol. 4, pp. 33-45, 1978.
"Factors Affecting Educational Opportunity and Their Implications for School Finance Reform: An Empirical Study," (with John Legler). Journal of Law and Education , Vol. 4, pp. 633-640, October 1975.
"Differential Tax Incidence of State Educational Grant-In-Aid Programs in Iowa: A Correction," (with Andy Sherbo, Jr.). National Tax Journal , Vol. 27, pp. 663-667, December 1974.
"Empirical Evidence of Economics of Scale in Education as a Justification of Differentials in Expenditures per Student," (with John Legler). Journal of Law and Education , Vol. 2, pp. 667-671, October 1973.
Cost Evaluation of SAM-D. Washington: Office, Comptroller of the Army, August 1969 (Secret).