Dean's Welcome
Greetings from the UAH College of Business Administration!
Thank you for your interest in the College of Business Administration. We are proud of our students, our faculty, and our programs. We are proud that we are different from most business schools. How are we different? Our faculty and students venture beyond the traditional boundaries of a business school in many things that they do. For example, we have
• Graduate business students who worked with NASA contractors to evaluate the feasibility of mining He-3 from the surface of the moon. Other graduate students are working with defense technologies and biotechnologies – looking for new markets and business opportunities.
• Our students regularly span the boundary between the university and the workplace –with student-led E-Launch weekends, an award-winning SHRM student chapter, a new student chapter of the Information Systems Security Association, an iSystems club that is helps non-profits with IT issues, and many others.
• Management science and management faculty who collaborated with nursing faculty on some challenging hospital management problems – and then launched a new business together.
• An interdisciplinary team of faculty that worked with the Department of Defense on a proof-of-concept model for addressing some sensitive supply chain issues.
• A team of faculty who published in the elite journal, SCIENCE – certainly not a traditional research outlet for business school faculty.
• A unique interdisciplinary master's degree program in Information Assurance & Security designed and delivered jointly with our colleagues in Colleges of Science and Engineering.
• An economics professor who published a book through Stanford University Press on the economics of crime.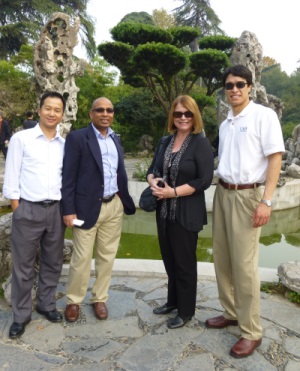 We also span geographical boundaries with our academic programs, student recruitment, and research collaborations. We have relationships in place with the Romania-American University in Bucharest Romania, with Tsinghua and Hohai Universities in China, and are developing new relationships with universities in France, Germany, and Panama. Our Eminent Scholar, Dr. Jeet Gupta, illustrates our boundary-spanning abilities best: He was just elected to the Decision Sciences Institute Board of Directors as Vice-President of Global Activities
Even our programs touch on the theme of spanning across boundaries. Our MBA, which is ranked by US News and World Report as 15th among professional public university programs in the southeast, has an integrative "management of technology" theme that positions it to serve the technology-intensive business environment of Huntsville, including NASA, DOD and the IT community. We welcome students from any major – science, engineering, nursing, liberal arts -- into our entrepreneurship courses and concentrations. And, our new B.S. in Economics & Computational Analysis is designed to be coupled with minors or double majors such as philosophy, biology, or computer science.
Not only do we span boundaries, our research has impact. That article in SCIENCE? Publication in what may be the most prestigious journal in the world is a wonderful, once-in-a-lifetime achievement. Even more importantly, though, the research has already influenced the behavior of some errant journal editors out there – we are getting reports of policy changes and new oversight measures to prevent the problem our faculty noted. And, that DOD supply chain project? The word from Redstone Arsenal is that people who matter are pleased…very pleased. This kind of engagement and relevance is part of a longer trend. According to the National Science Foundation, UAHuntsville is regularly among the top 15 in the national for federal funding in management and economics. Given our size, that is a remarkable achievement.
Yes, we are proud we are different,
Caron St. John, Dean