Junior Achievement Entrepreneurship Camp

UAHuntsville – Junior Achievement Entrepreneurship Camp
A Residence Camp on the Campus of UAHuntsville
July 15-20, 2012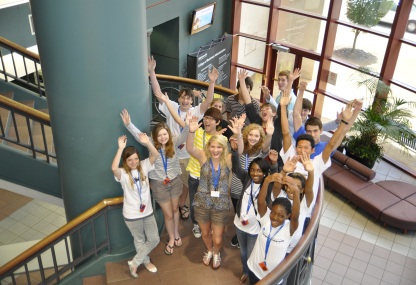 The UAHuntsville College of Business Administration and North AlabamaJunior Achievement are joining together to offer an Entrepreneurship Camp July 15-20, 2012. This camp is a six day intensive experience designed for high school students who are considering careers in entrepreneurship and new business ventures. We want students to leave with an understanding of just how fun and challenging entrepreneurship can be!
Students will be exposed to all aspects of planning and launching an entrepreneurial venture including -- recognizing opportunities, understanding customers and competition, determining how much money is needed to start and grow a business, building the start-up team – and other topics. Camp participants will work in teams – with each team planning the launch of a new product &ndash with the guidance of successful community entrepreneurs, leading faculty, and UAHuntsville Entrepreneurship Club student members. The week will conclude with a competition for best smart phone app and plan – with prizes and awards for the winning team.
Quick Facts:
The $300 total fee includes all housing, meals, and program materials for the Sunday through Friday program.
Merit and financial need scholarships are available.
Students will work in teams on a real new product opportunity, mentored by UAHuntsville Entrepreneurship Club student members and successful community entrepreneurs.
---
UAHuntsville – Junior Achievement Entrepreneurship Camp Student Application
July 15-20, 2012
Universityof Alabama in Huntsville
College of Business Administration
ELIGIBILITY: Must be a high school student who has completed their sophomore year and will be a junior or senior in fall 2012.
IMPORTANT: The total fee for the program is $300.00, which includes on-campus lodging in new dorms, all meals, and all materials from Sunday afternoon, July 15th, through Friday afternoon, July 20th. A $50 non-refundable deposit (made payable to the University of Alabama in Huntsville) is required with this application with the remainder of payment due at check-in. (If the student is not accepted to the Entrepreneurship Camp, the parent will be notified and the check will not be deposited.). Merit based and need based scholarships are available.
Student Application is due by June 15, 2012.
If you have questions regarding the application call (256) 824-6736 or email BusinessDean@uah.edu.
Application must be completed in full to be considered for the Entrepreneurship Camp.
STEP 1: Complete this application, UAHuntsville will notify you of acceptance within one week.
STEP 2: If you are accepted, you will receive an acceptance packet via email to fill out and return by June 20, 2012.
STEP 3: You will receive any additional information via email. Arrive on Sunday afternoon, July 15th and get ready for a great week!
Application (pdf)
Online Application
Online Scholarship Application
Online Reference Form